Beautiful Distractions No. 13
Last Updated on June 15, 2023
Oh do I have pretties to share with you today! Today I'm sharing a few things that made me ooooh, aaaah, and giggle. So if you're looking to take a quick break from work or if you're avoiding cleaning the house or that pile of laundry, let's dig in!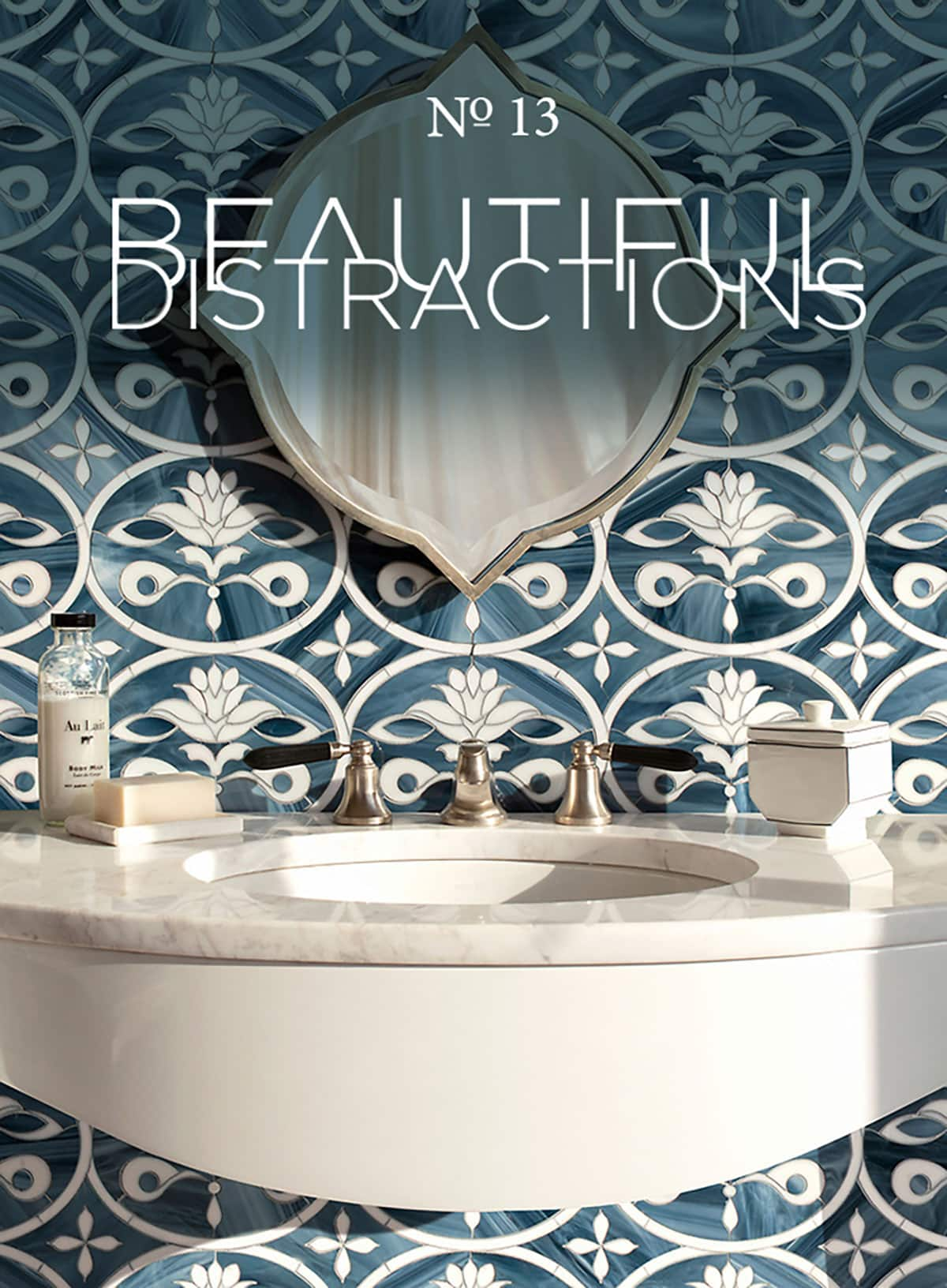 Photo New Ravenna
Here's kind of a wacky story for ya. This woman plans to marry a 91-year old chandelier she's named Lumiere. Amanda Liberty has an open relationship with multiple chandies, but this one, in particular, she's committed to. As she follows her heart and plans the nuptials, I'm curious about the dress she'll wear. My guess is it'll be covered in crystals.
The blue waterjet mosaic up top from New Ravenna might inspire a whole bathroom makeover. Be still my heart! Also, the Beatrice Grandiose would make for an incredible floor as well. Stunning.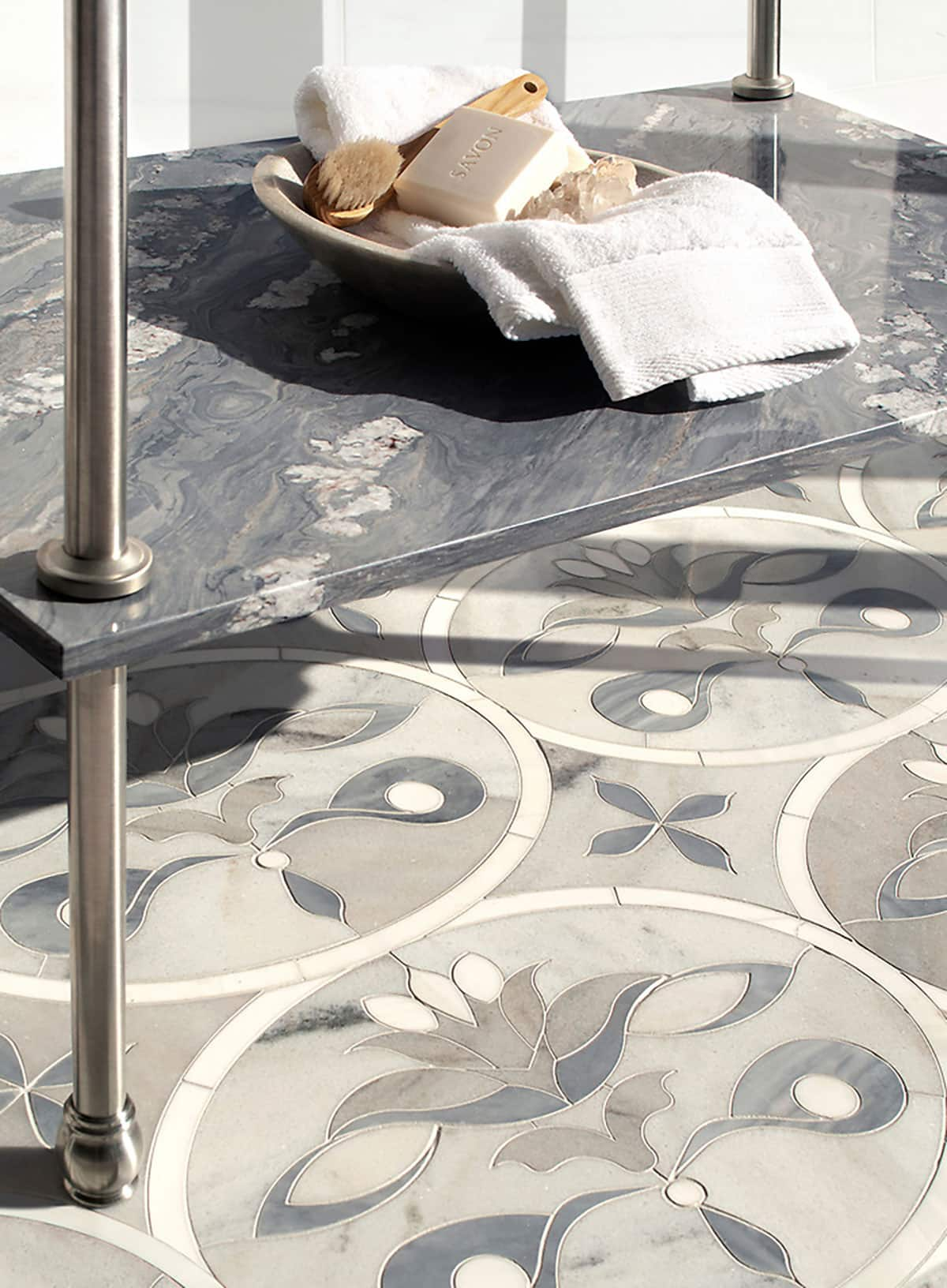 Photo New Ravenna
The Nordstrom Anniversary Sale is in its final days, and I've got this cute little number (sold out) high up on my wishlist. This (sold out) might be an option for the master bedroom.
While Sophia Mya is known for incredibly beautiful cupcakes, these edible crystal candies are spectacular! Made from scratch and completely instaworthy. I'm trying to find out if she can ship the candies to The States. Until then, I'll be drooling over their Instagram.

Photo Sophia Mya Cupcakes
While "Every Rose Has It's Thorn", Bret Michaels has his heart set on candles. Yes, you read that right…lead singer of Poison has launched his lifestyle brand which includes candles. Apparently, Roses & Thorns is based on Bret's "wildly popular" cologne…and leads to sexy results…yes…I'm dying too. This checks the box for The Boy's Christmas present.
Yes, I'm tooting my own horn. A House Of Hipsters home tour was featured on Style Me Pretty Living, and when it went live, I squealed! Things like that don't happen every day, and I'm trying to celebrate those sorts of things more often. Chin chin!

And last but not least, back in the early 2000s, I was a dedicated shopper of Abercrombie + Fitch, but the shirtless teenage boys greeting you at the entrance and size 00 slim became a bit intimidating as I entered my 30s. I recently stumbled upon these alternatives to skinny jeans and was like dang, I need em…and was pleasantly surprised to find out they have sizing that enters the 12ish range. High five you AF! Anywho, a few other pairs of denim and a button-down fell into my cart, and although the jeans that originally caught my eye were suddenly no longer available (so maybe I take that high five back), I was thrilled with the fit! They're having a massive clearance sale, and I think these trending jeans may have to fall into my cart next.

Photo Abercrombie + Fitch
Discover More Home Decorating Ideas
I score a bar cart at the flea market, so of course I'm playing with bar cart styling today!
Speaking of, I've rounded up my favorite vintage barware for your modern-day bar cart
These trending sandals for summer recently caught my eye.
Thanks to Mrs. Maisel, 50s fashion is trending. Here is what I've been obsessed with lately.
Are you the secret Santa for someone who has everything? Check out this holiday gift guide for the hard to buy for
Wanna learn how to mix up the perfect Wisconsin brandy old fashioned sweet—get all the deets.