For most of last week I was sick and in bed with the most horrendous cold. After fighting it off for two weeks with the boy and kiddos sick as well, my body finally said uncle, you've joined the sick club too lady. Trying to make the most of my down time, I of course perused Pinterest! I've been meaning to do a quick and easy DIY on the blog and was looking for some inspiration when found this DIY Watercolor Mug project I thought was super cool! I had seen marbling techniques on nails but on household items, it was soooo fresh. That's when the lightbulb lit up above my head while sipping on tea and honey out of plain white boring mugs. These puppies could use a bit of pep! Let's hop outta bed and do this! Here we go! How to create a DIY Watercolor Mug!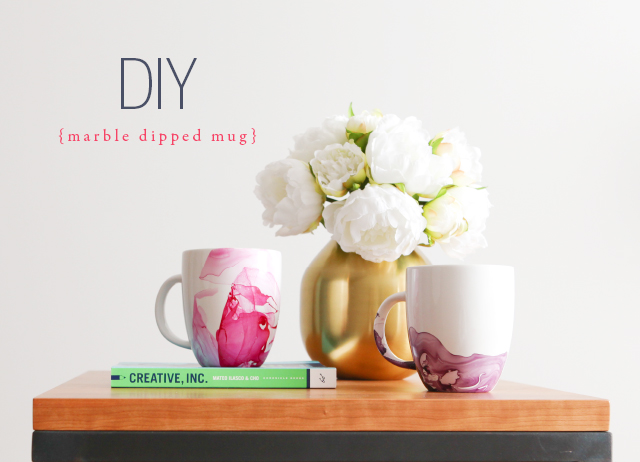 So there's a good chance you might have everything you need.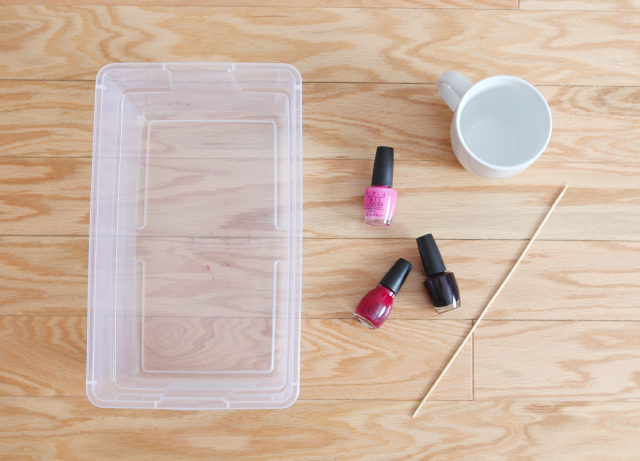 THINGS NEED TO CREATE A DIY WATERCOLOR MUG
• mug (I got mine from Target)
• nail polish
• old container you do't mind ruining
• bamboo sker or toothpick
• paper towel or parchment paper
Fill an old container with warm water. The warmer the better. Just be sure it is something you don't mind having nail polish on since this process can leave some residue behind. When you fill it, don't fill it too full. Take whatever piece you are going to dip and do a test run.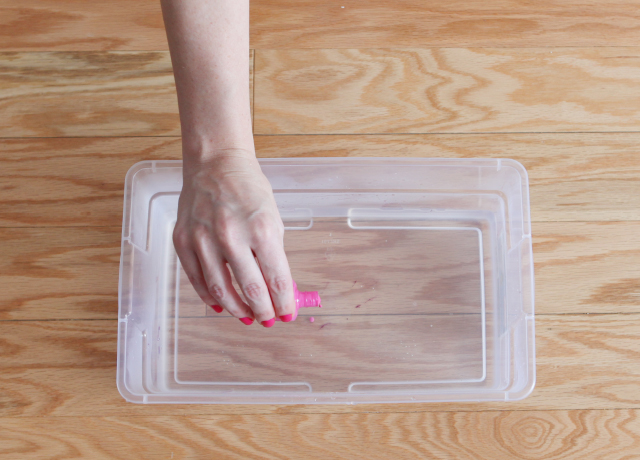 Grab some pretty nail polish from a cupboard in your bathroom. There's really no need to buy new, and you'll only need a few drops to make a small swirl. Also, be sure NOT to grab a quick dry polish. Time is of the essence here, we don't need to shorten our time even more with a quick dry. Also, don't grab your Essie "Ballet Slippers". You will want something with some pow! A bright or dark color works well.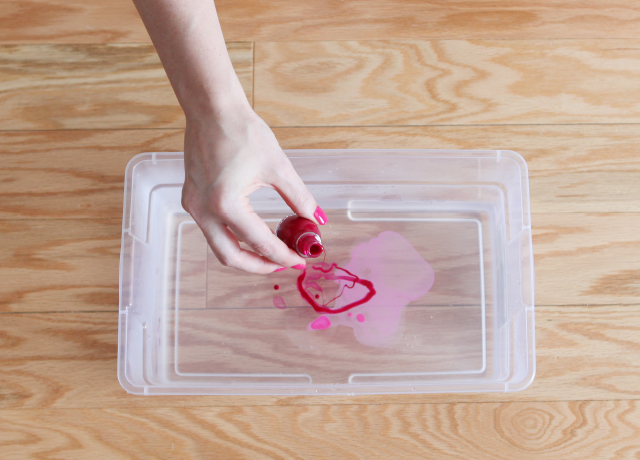 Pour a few drops of polish into the water. Swirl with skewer if necessary. A film will start to form (it is starting to dry already). Grab your mug because we're finally ready to create that awesome DIY Watercolor Mug! Dip and swirl to pick up the paint. Place your mug on the paper towel to dry. Don't touch it until it's completely dry.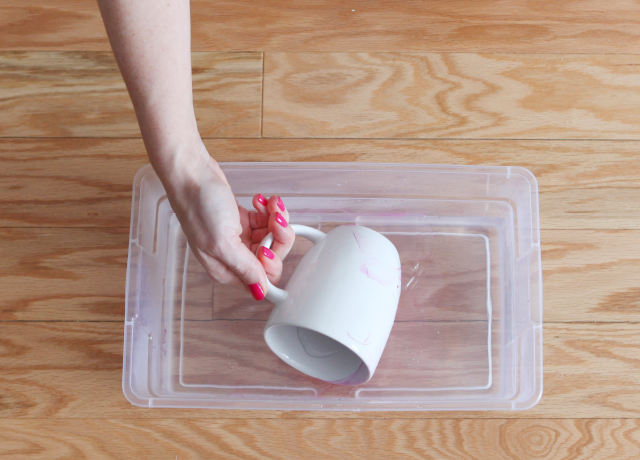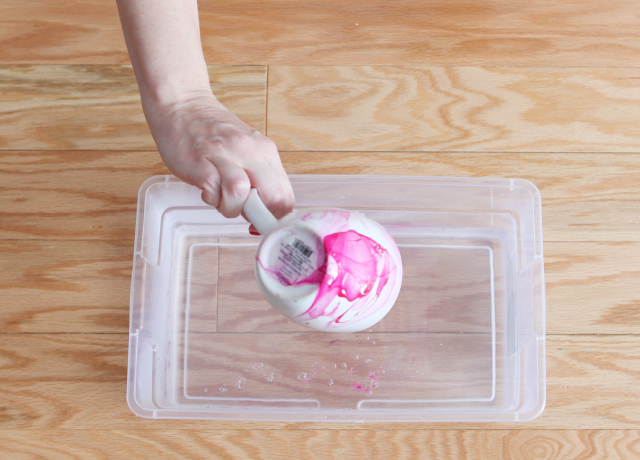 That's it guys! That is all you've got to do! How cool is that? I think it looks a little like watercolor. What do you think?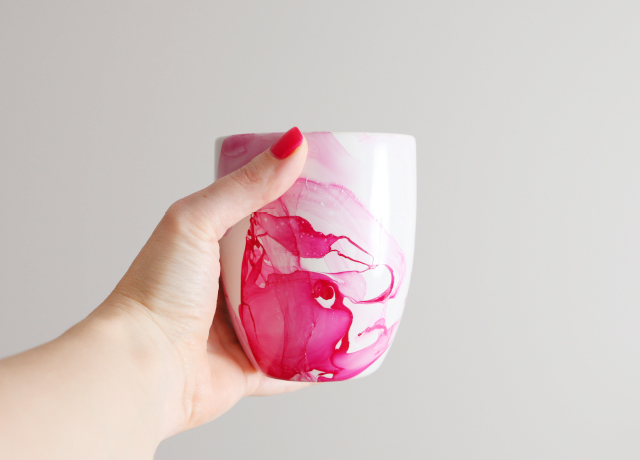 DIY WATERCOLOR MUG HELPFUL TIPS:
Pour the polish close to the surface of the water. If dropped too high, it will sink to the bottom and not dissipate.
Trying using a plastic Solo cup first to get the hang of it.
Use 2 colors to get a really fun marbling effect.
Don't use the brush to add the drops, pour it from the bottle.
Your mug is no longer dishwasher safe nor is it microwave safe. And if possible, don't put the polish on an area where you would have food or place your lips. It's just not healthy.
Only dip your item once. If you feel like it needs more. Let it dry and start again until you get the desired effect.
This process moves very quickly so be swift on your feet!
Don't touch the mug until it's dry. You don't want to smudge it. If you really messed it up,you can take some nail polish remover to it.
When emptying out the water, be sure to scoop out all the extra polish with paper towel first or you will have a very colorful sink.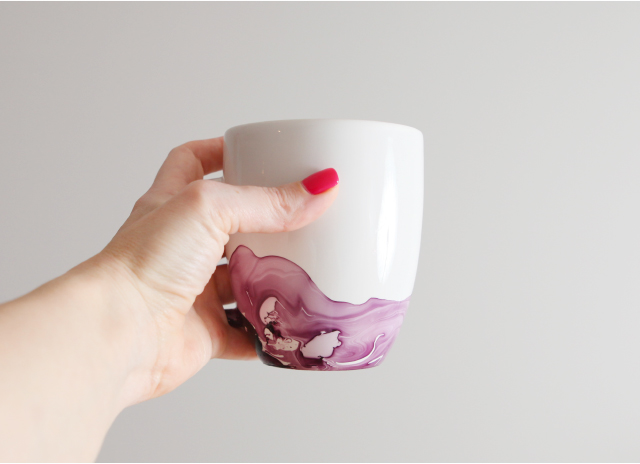 And that is the easiest way to create a DIY watercolor mug!