Window Blinds and Shades
Last Updated on June 28, 2023
This past weekend I learned a valuable lesson about window blinds and shades and window treatments in general. You guys, they can transform a room! Such a simple thing can completely change the look and feel. Oh. Em. Gee. Who knew. They made me no longer want to take a sledgehammer to my mantle. I no longer think it's necessary to paint the entire first-floor white. I had no idea. Before I start to ramble on, there's a giveaway at the bottom of this post! WAAAAAAY down there. Be sure to enter to win before you take off.
Anyhoo, remember way back when I posted an I Make Emily Henderson Cry room reveal of my living room? There was a resounding disdain for my old wooden blinds. I believe you called them country, 1990's, and yishy. I was told, "Cover them up! They're hideous!" and "1996 called. They want their blinds back." Don't worry. I ain't mad at cha. In fact, I was right there with ya, but all in due time.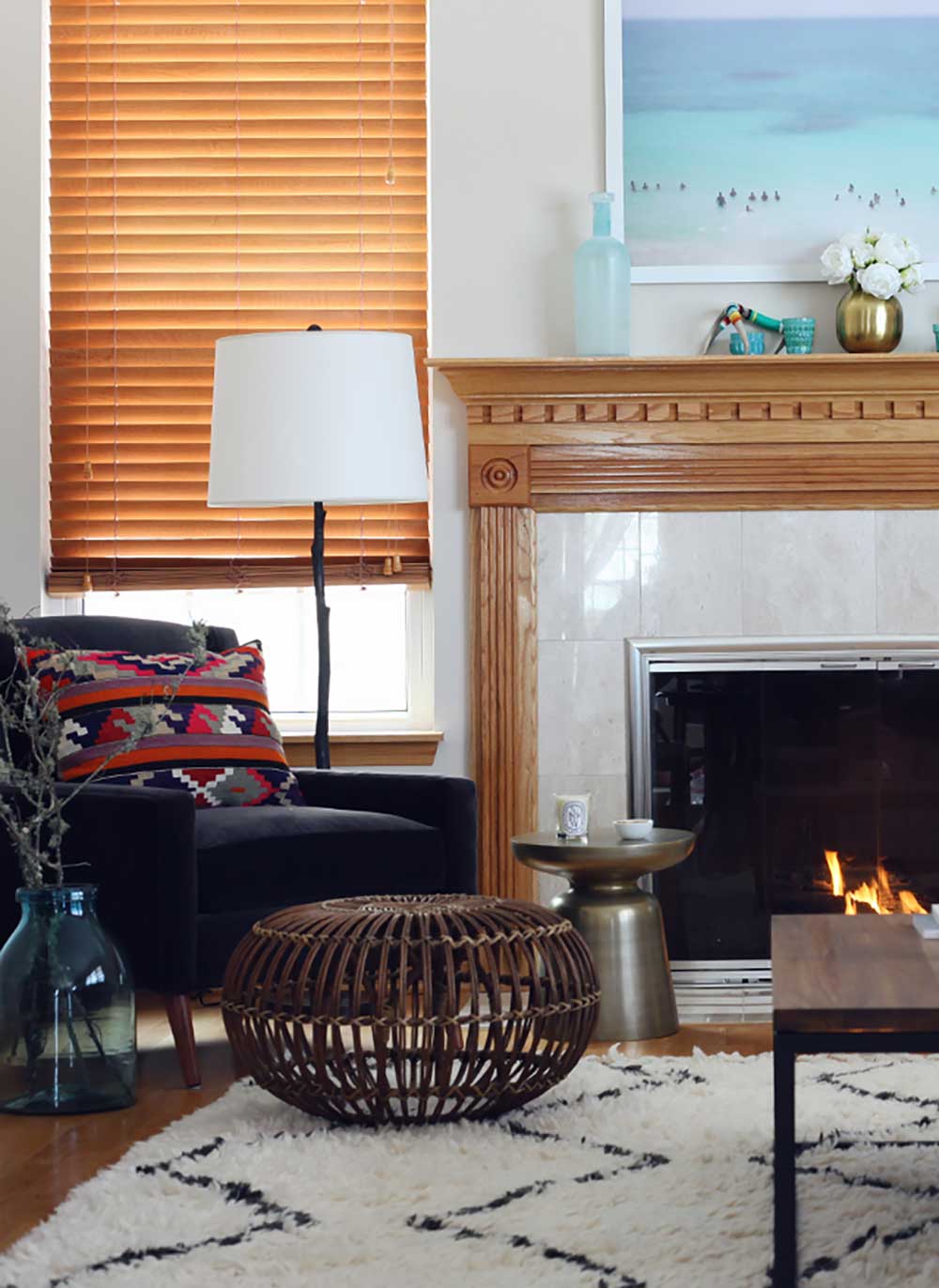 When we bought The Souk rug from West Elm, the room felt cozier but still dark… cave-like despite all the windows. I thought maybe a coat of white paint would brighten things up, but if I painted, I had to paint the entire first floor. Blerg. Y'all were right, the natural wood seemed dated, but it's everywhere in the house. The floors, trim, doors, banister. It seemed like a can of worms that I didn't want to open. Besides, I didn't realize how window shades could make such a huge difference. Boy was I wrong.
During the day, we normally have the blinds pulled shut because the kids can't see the TV without a glare. And when Bob, our neighbor, is grilling he can see right into our living room. Which I found out the hard way 2 years ago while nursing Little Maus. I apparently gave him quite the show while he was flipping burgers. Sorry about that Bob. Anyhoo, I recently found Cellular Window Shades. As you know I've been working on the guest bedroom with Decorist. Ashley, my interior designer, removed my ugly blackout curtains to let more light in. The problem with that was all the street lighting and landscape lighting lit that room up like a Christmas tree. I needed to buy blackout blinds to help my guests sleep comfortably.
Are you ready for a sneak peek into the guest bedroom makeover? It needs white paint…it's not completed yet, but seriously, no one has seen this you guys! Not even Decorist! Here ya go, boom.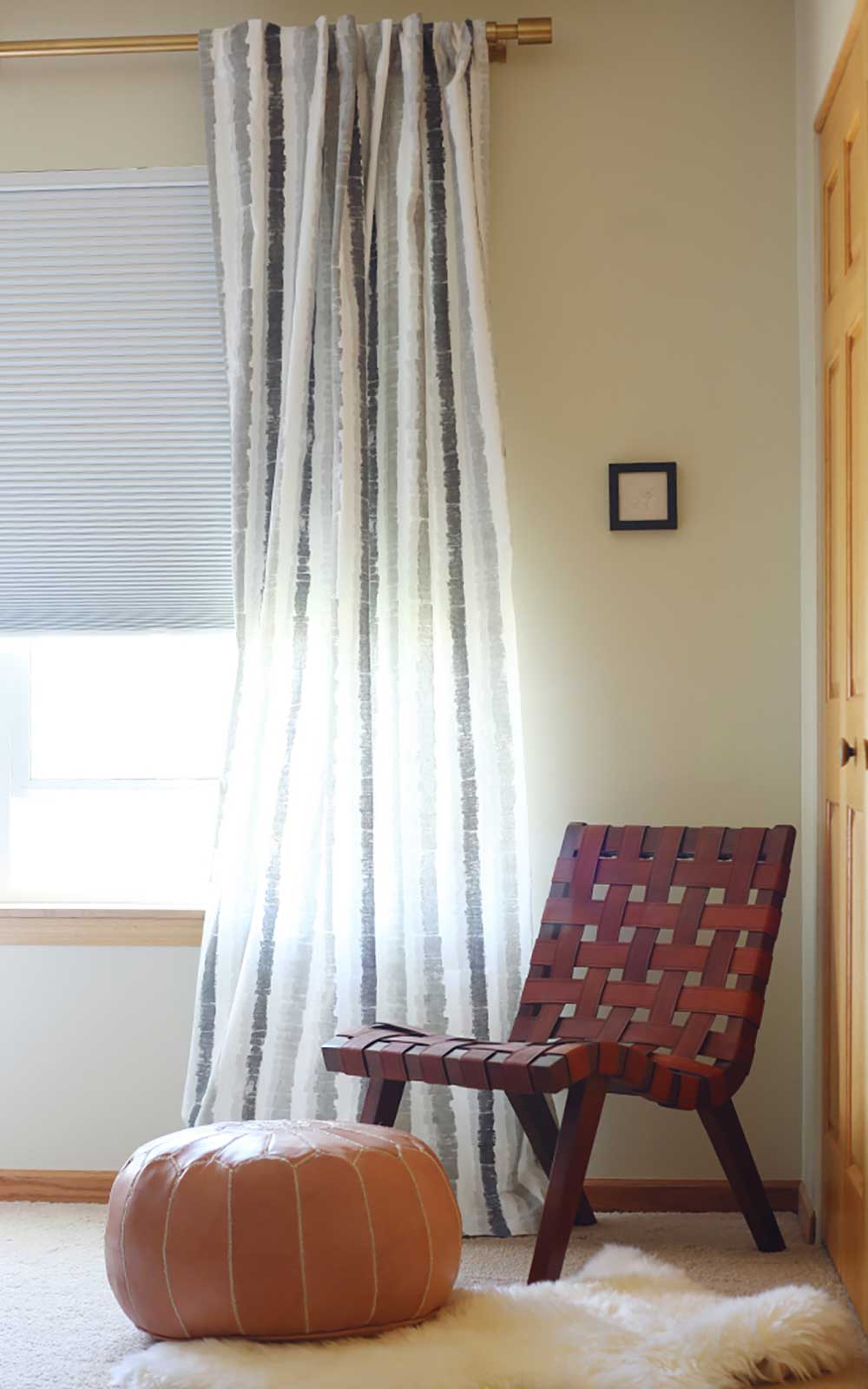 Cellular Window Shades came to my rescue. They are handmade in Vermont which I appreciate, but what really sold me was that they have the highest quality insulating cellular shades available. Specifically designed to be energy efficient so they save me money. Most important, the cordless option makes me feel secure as a parent of two young mischievous children.
In the bedroom, I chose a blackout cordless option. The blackout feature is a true blackout. It keeps the space cool during the day and completely dark throughout the night. You can see in the window above just how sunny it was. That shade is letting in zero light.
For the living room, we chose the light filtering, cordless, top down, bottom up shades. They diffuse the light yet still reduce glare on the TV.  The room became instantly brighter! By removing those old, dark, heavy blinds and installing these whiter, lighter window shades, this room is no longer a dark hole to the underworld with fancy taste in rugs. Ready to be amazed?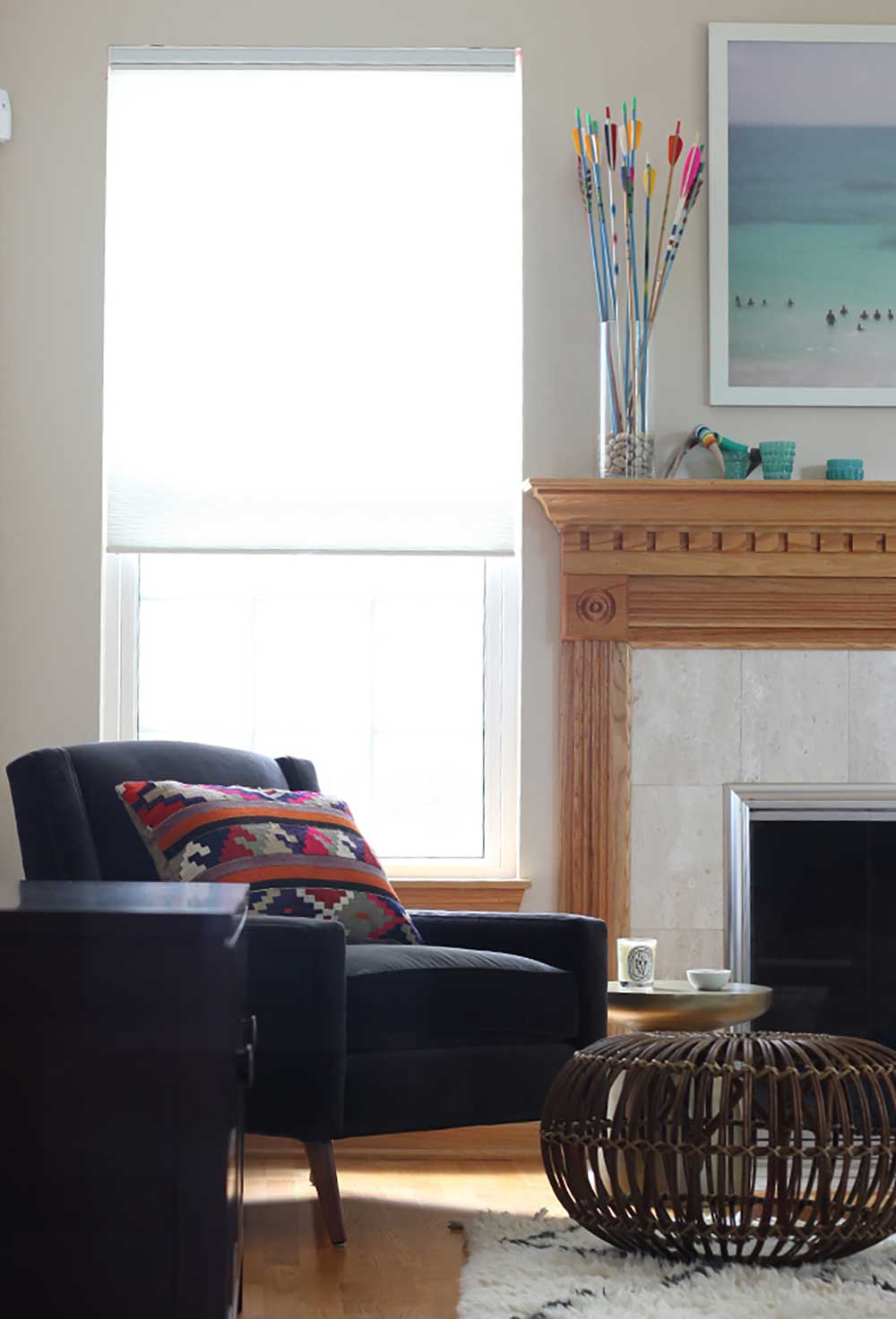 Look at all that light coming in!!! The whole room just shines. And I don't mind the mantle.

We loved the window shades so much, we not only ordered them for the living room and the guest room, but we have another shipment coming for Little Maus' bedroom, The Dude's bedroom, The Boy's home office, and the bathroom. Yowza! And BTDubs, the installation was super slick, even I could do it. Now, all we need are some cheap curtains – I'm thinking velvet curtains.
Although I had the boy be my model below…you don't need fancy levels or bullseyes or prayers to the window shade gods. All you need is a drill, measuring tape and a pencil. See those little lips on the brackets? There's a channel on the inner portion of the window shades that just snaps on. To ensure you have the right measurements, they lay it out for you for a perfect fit. I might be a window shade newbie, but I felt like a pro when the installation was complete. And that's it. Licketty split.

Discover More Home Decor Inspiration