The Power Of A Thank You Note
Last Updated on January 3, 2022
The other day I realized I didn't have a stapler in my office…I usually run upstairs to borrow my husband's Swingline, but I suddenly remembered a pretty lucite and gold stapler I've been pining away for on the internets for a couple of years now…it made a list, but I never purchased it until last Friday. I came home from work yesterday and saw the package, but decided to wait until the morning to open it…I mean, I knew what it was…it was a stapler, a pretty and shiny stapler, but really, just a stapler.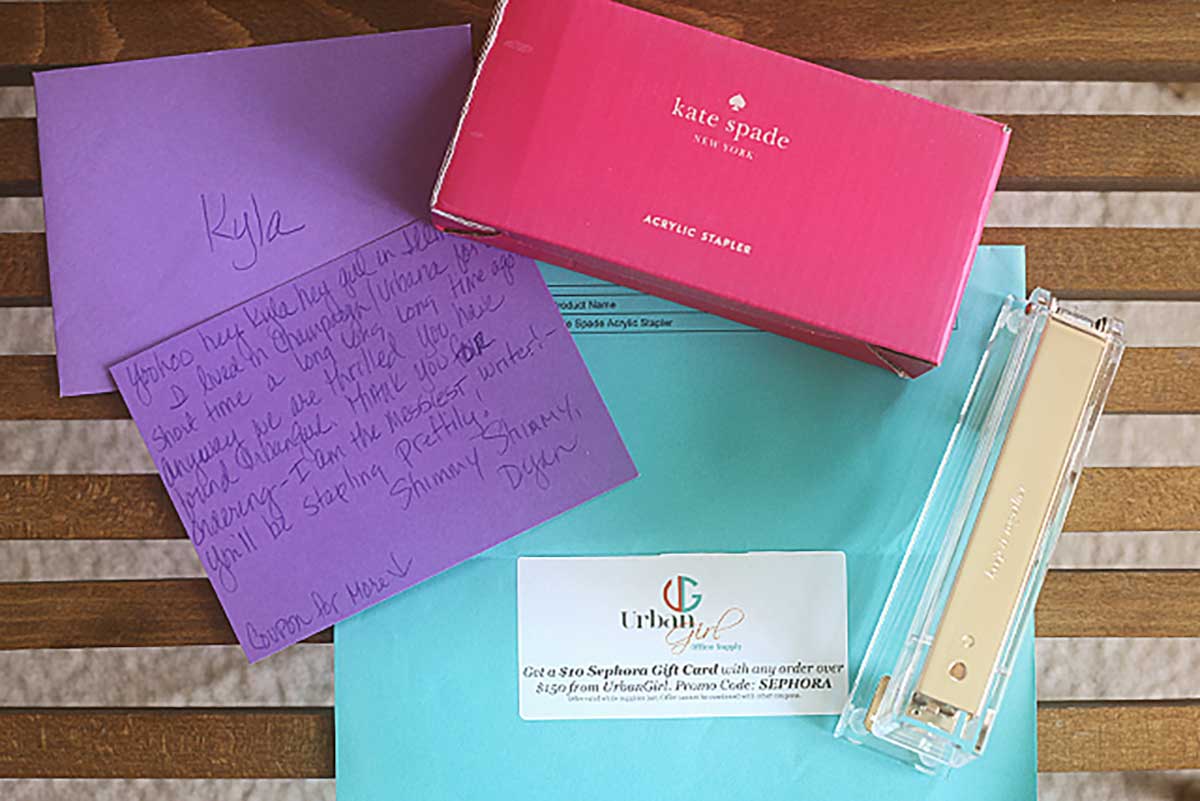 This morning, I finally grabbed the package from the kitchen table and began to open the small box. Normally, online shipping boxes contain the item you ordered, some bubble wrap (if you're lucky because bubble wrap can be SUPER fun), or craft paper and an invoice. But this box was different…it contained a personalized note in an envelope with my name on it…and not just a "hope you like your new stapler" note, but a really fun one I'd like to share every adorable word:
Yoohoo, Hey Hyla, Hey girl in Illinois
I lived in Champaign/Urbana for a short time a long long long time ago! anyway, we are thrilled you have found urbangirl.com, and thank you for ordering — I'm the messiest writer! You'll be stapling pretty!
Shimmy shimmy,
Dyan
It's true that good things really do come in small packages because they included not 1 but 2 coupons for me to use on my future orders…I mean seriously, how super sweet and cute and personalized is that note? A complete rarity! in fact, I can think of only 2 other online stores that have written me personalized notes…Trina Turk and Imogene + Willie.
A handwritten note goes a long, long way with me. it doesn't happen often, but when it does, I will remember, and I will tell my friends…so friends, visit urbangirl.com the next time you are in the need of office supplies (and who doesn't get giddy over pretty office supplies anyway). As an added bonus, they are a woman-owned company, and us girls have to stick together. I'm also thinking of stealing Dyan's sign-off as my closing for every email — "shimmy shimmy".
Read More On House Of Hipsters
Pinterest Problems And Open Letter To Ben and Evan
Pink and Green Modern Living Room