Hey, hey, hey you guys! (I'm suddenly feeling like Fat Albert here.) I'm back again to guest host another Thrift Score Thursday on Instagram. I really hope you brought your a-game and hashtagged all your thrifted treasures with #thriftscorethursday. Unlike last time, I was perfectly prepared, well prepared until my lovely ladies added in a twist. The gals want to add in a bit of a challenge (if you can handle it) called "Have Yourself A Merry Thrifted Christmas". Yep, that's right, if you've got a holiday thrifted item, photograph and hashtag that puppy up before December 18.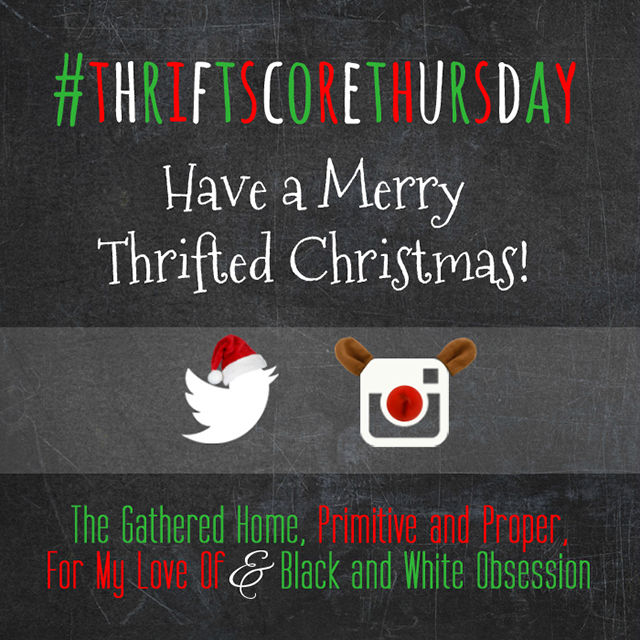 MORE AFTER THE JUMP
If you haven't participated in Thrift Score Thursday,  you need to get on this. Just share a picture on Instagram or Twitter of any thrifty find using #thriftscorethursday It's so much fun to see everyone's treasures, and it's hosted every week by Trisha from Black and White Obsession, Brynne from The Gathered Home, Cassie from Primitive and Proper and Corinne from For My Love Of. So what are we waiting for, let's get to what caught my eye this week.
"So this happened", says Jennifer @fleamarketfab I swear this woman has one of the best feeds and an incredible eye for interior design. Well, that is probably why she does it for a living. Go check her out! She's this amazing person I just recently met on Instagram and owns amazing rugs that I crush on. Can't wait to see what Grace Jones' head looks like with succulents growing out of her head! And those bow ties! COME ON!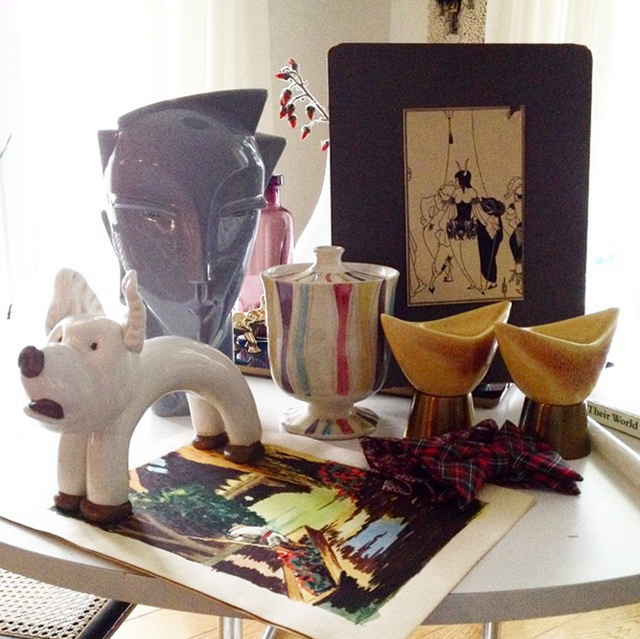 Who knew a typewriter table could be this incredibly fabulous? Well, Tanya @danslelakehouse did! She spray painted this sucka gold and has me swooning! Ya, Tanya! It's a hit! And if turquoise awesomeness is your thing (I know mine is!) then you'll love what she has going on with her Instagram feed.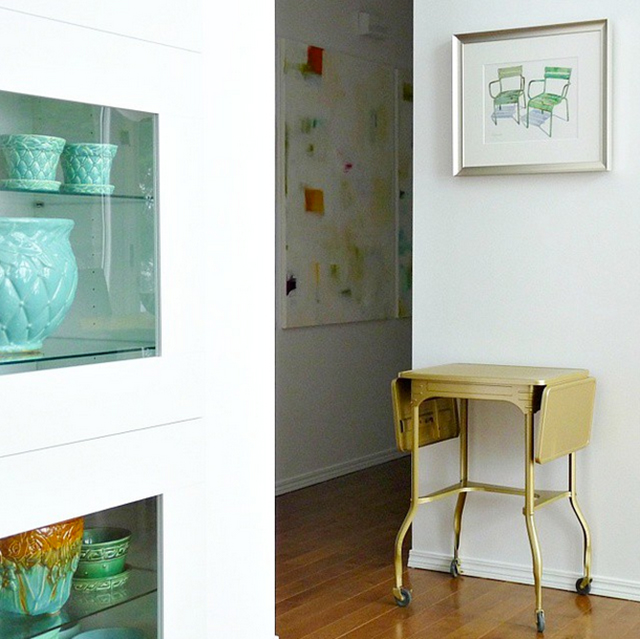 Now, as for me, I was a busy little thrift store beaver over Thanksgiving vacation. I snapped right out of that food coma when The Dude asked if her could go visit the car museum in Volo the following day. Hmmmm, the car museum is also connected to a huge antique mall. An antique mall with 15% off everything throughout the HUGE 4 building mall.  Where's my keys? Daddy, you take the babies to the car museum because momma's got some shoppin' to do! Here's what I picked up!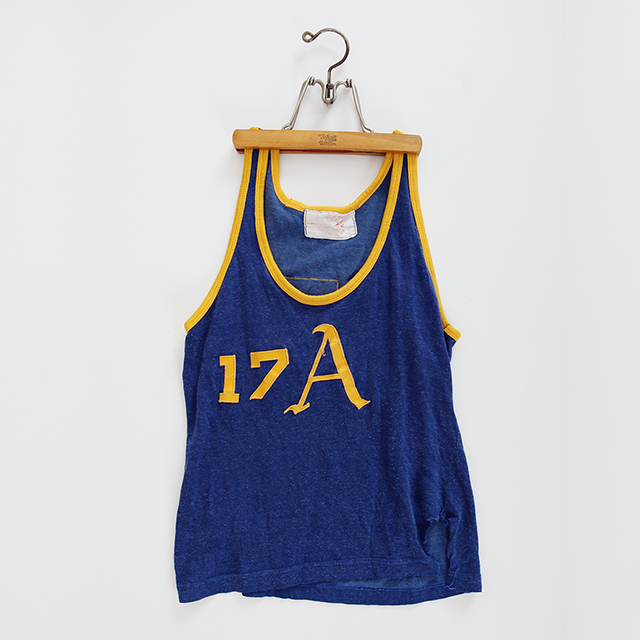 I found this old vintage track tank and plan to hang it at the end of my hallway upstairs on this sweet vintage hanger. I'm not quite sure what drew me in. I think it was the type. It has a large "17" on the back side. Ya, sure it has a huge ripe in the lower right corner, but I think that gives it some character. I want to hang some of my vintage track, football and boxing team portraits around it.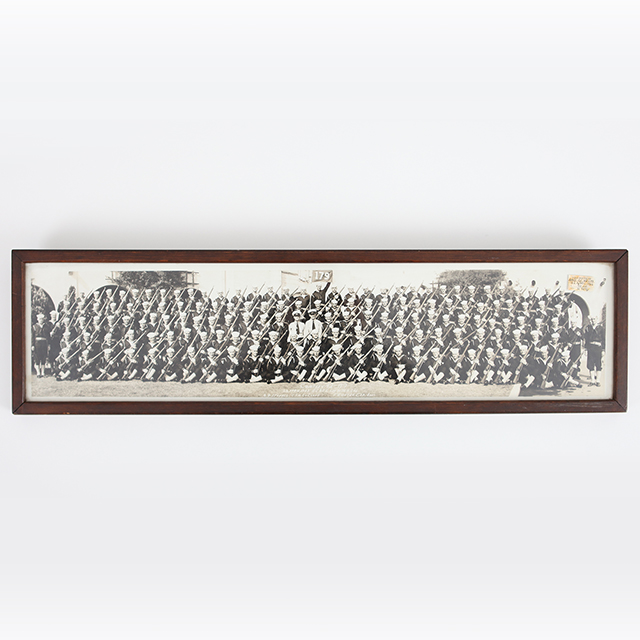 So this bad boy was hanging in a booth swarming with people. Since corwds and small spaces freak me out, I actually passed it up and walked a complete circle before entering. Once I was inside, I thought to myself, "Mantiques! Yes, right up my alley." Now there was a lot of cool items in this booth, but vintage panoramics tug at my heart strings. I have a huge collection of them. Here's a closer look.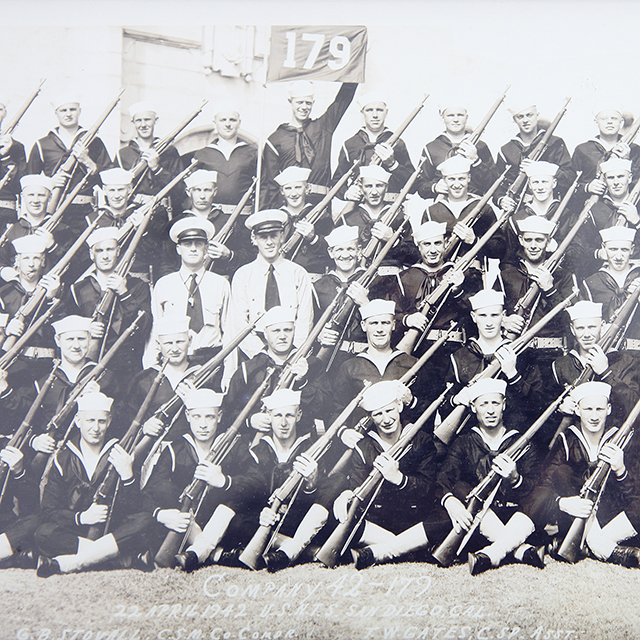 This panoramic portrait of Navy men is dated April 22, 1942, Company 42-179. I normally I buy band, sports or factory panoramics, and not military, but I don't often see everyone with their guns out, so this one was a bit unique to me. While I was in the booth snagging it off the wall, another gentleman tried to snatch it from me helped me. Ya, uh, no way buddy. This bad boy was is fantastic shape, at a good price and this particular booth was 20% off. Not giving it up! This photo is coming home with me.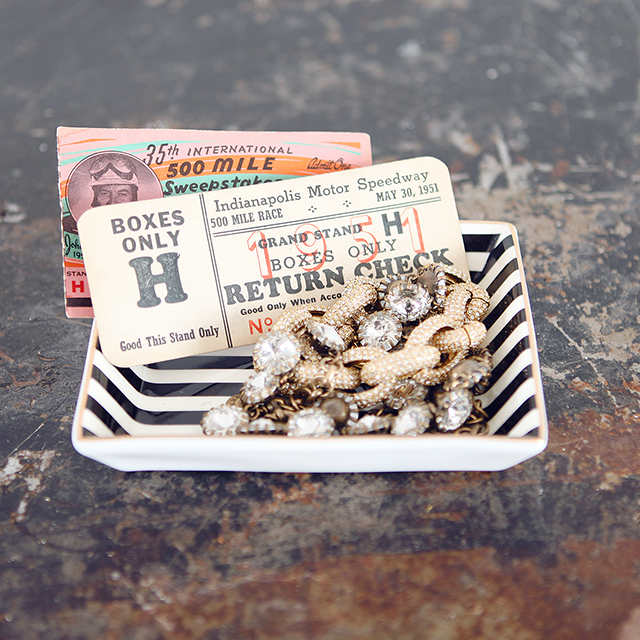 I'll bet you the last thing the guy who attended this race back in 1951 expected was for his ticket to wind up in a fancy tray next to pretty jewelry. Again, I'm not quite sure what drew me in here, but I'm assuming it's the type that keeps my gaze. I have no idea where these two guys will wind up, but I'll be sure to find a place to display them proudly.
And then I did something I wasn't planning on doing. If you read my Before and After Front Room post, you'll know that I said I was finally done monkeying around with that space. Whoops. Well, I wasn't expecting one of my favorite vintage stores to close it's doors the other day, but it did. It's with a heavy heart that I tell you The White Attic in Chicago is gone. The only good thing that came of it was that everything in the store was 40% off. I called Terry the owner, first thing Saturday morning. I wanted to buy 2 dressers, but the one was sold the day before. Missed it. And I'm bummed because it was a BEAUT! However, I did pick up this little pretty and replaced the old hairpin table I scored off Craigslist. BTDubs, if you are ever in the Chicago area looking for score some vintage treasures, here is a post you want you read.  I think this piece fits the space better. And please don't pay attention to all the toys in the playroom. Keepin' it real y'all!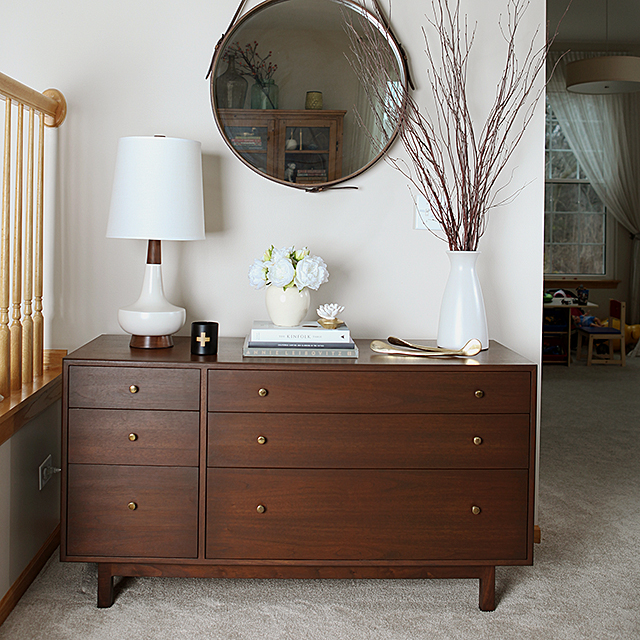 Be sure to stop by each of the host's blog to see if your treasure was featured!





So are you guys ready to get your holiday thrifting on? We want to see everything! Your fancy vintage sleds, your brass reindeer, your Leave It To Beaver era ornaments. Hashtag it with #thriftscorethursday to join the fun of the "Have Yourself a Merry Thrifted Christmas" Challenge before December 18th!