Dear Emily,
A couple months ago you some how came across my blog and read an I Make Emily Henderson Cry post. I about fell out of my chair when you wrote on my Facebook page. I do hope you enjoyed reading it as much as I enjoyed writing it. Since watching Secrets From A Stylist (please bring it back, I need you in my living room…but not in a creepy kinda way), I've learned so much about my style and how to create vignettes. I still haven't mastered the art of mixing and matching pillows, but I swear I'm practicing.
Reading your blog and watching your videos…girl, you are a wealth of knowledge that people like me value, adore, and cherish. It's like you've created your very own little army of eclectic style mixing wanna be designers. Because of you, I had the confidence to start this master bedroom makeover and know it would wind up magazine worthy. And for that, I thank you. So if you're reading this, I hope you see how you've inspired me. From velvet navy headboards to brass sconces to mix and matched furniture. Mid-Century Modern with a little bit of granny as you call it. Wipe those sweet salty tears of sadness away and come out from hiding in the closet because girl, I'm about to blow your mind…I hope, fingers crossed.
There's been some chatter…mostly started by myself…of a super secret amazingly stupendous master bedroom makeover project. Yep, it was on track for a very cool feature in a very cool magazine, but, weird shit happens sometimes and whomp, whomp, whomp, I think that game is over. It's okay though, I'm over it…not really. Insert laughing so hard I'm crying emojis here. I still have what will soon be one dreamy little spot to lay my pretty head. That is, pending a gorgeous rug's arrival from India, a painter who has been perpetually busy and a DIY. Note to self, stop slamming the painter get on that DIY already. Oh, and some wall art above my bed.
Because the space is not finalized (the main feature is the rug), this post is not a complete reveal (sad face), but I promise to share more then just a one picture sneak peek. I'll also be sharing with you how everything came together, and who helped me make my master bedroom makeover happen.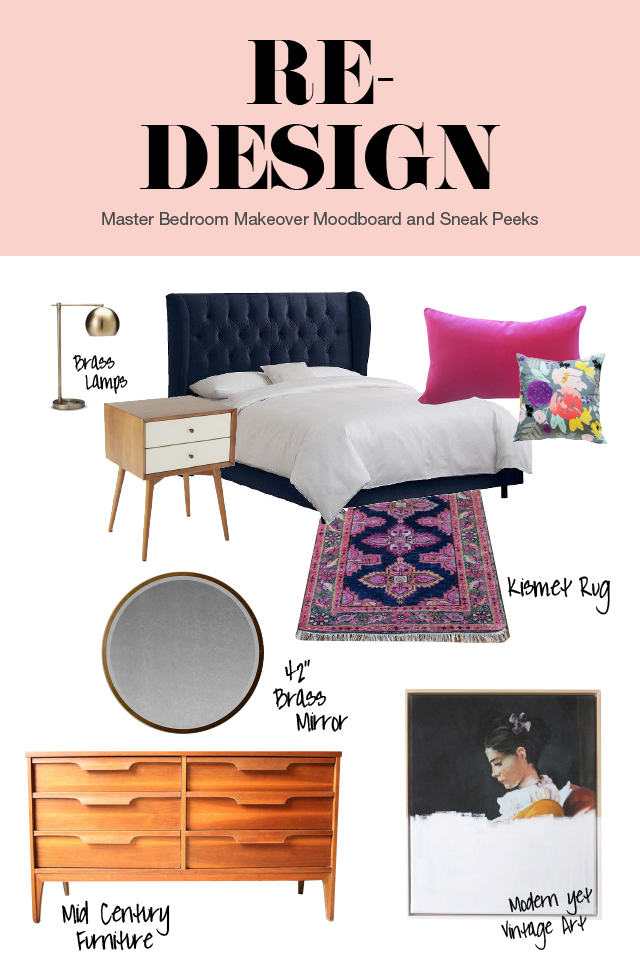 MORE AFTER THE JUMP…