What's In My Bag
Last Updated on December 2, 2022
I think one of the most fun and interesting posts I see bloggers do is the What's In My Bag post. Maybe it's me being nosey and curious, or maybe it's wanting to know another lady's favorite lipstick or reading material. I'm not sure. But one thing's for sure, I carry EVERYTHING in my bag. Since my commute is 3 hours long round trip, my bag is pretty much an extension of my home. I need all the essentials on hand in case any unexpected emergencies arise. It's filled with everything I might need, but I try to clean it out once a month or it starts to overflow so badly it can't be closed. Today happened to be a let's clean the bag day, so I decided to share my bare necessities with you. And boys, if you are reading this, any of these items will rock your girl's Christmas morning, so read on!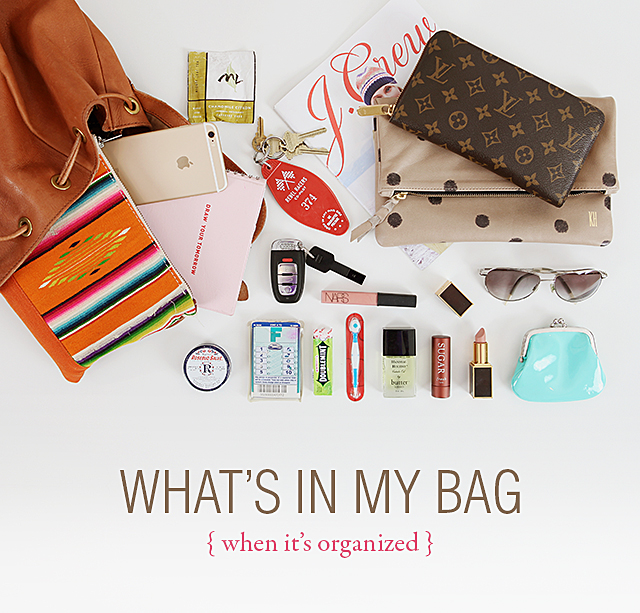 I usually switch my bag out about once every few months. I really love my oversized Louis Vuitton, but today I've switched to my Madewell Transport Rucksack. The leather is buttery soft, and I like its outer pocket for carrying items I need to keep handy.
So, as you can see, I'm a bag inside of a bag girl. I love to organize smaller items in clutches. Since I carry oversized bags, I tend to lose things into the bottom of the abyss unless I wrangle them in something smaller. I also like to keep a clutch in case I'm going out for drinks after work for convenience. I hate trying to make my way through a crowd, bonking into others, and constantly saying excuse me because of a purse.
So let's get started, shall we? What exactly is in my bag?
1. TOTeM Salvage Vintage Serape Clutch. I found this on our last trip to Pai'a Hawaii and fell in love with it. It's completely unique, and I've never seen another quite like it. Its big bold colors caught my eye.
2. Draw Your Tomorrow Planner from Poketo. I can't live without my planner and my favorites have come from Poketo only to be rivaled with The Day Designer. I had that particular planner last year but chose to switch because The Day Designer is a bit too bulky to lug around every day.
3. iPhone Plus. Can't live without it. It keeps me organized, up-to-date, on time, and entertained. Enough said.
4. Mighty Leaf Chamomile Citrus Tea. I dropped coffee out of my morning routine, but I still like to have something warm in the early hours. I first tried this tea while enjoying a manicure. I immediately had to have a box of my own.
5. Vintage Style Motel Keychain. I love this "Rebel Racers" motel-style keychain. Mainly for its retro awesomeness, but also so I can find my office keys without dumping everything out. More often than not, I just toss them in my bag, so having them on a larger tag like this helps locate them in a pinch.
6. Bluelounge for Target Kii iPhone Charger. The Kii is a compact portable charger that fits on your keychain. The ultimate in convenience. I use this puppy on a daily basis.
7. J.Crew catalog. Today it's just one catalog, but as the days go by these add up. You can usually add in Better Homes and Garden, HGTV Magazine, Darling Magazine, Anthology, Lucky Peach, and Sweet Paul by the end of the month.
8. Sunnies. I'm in love with these classic aviators by Oliver Peoples. I've had them for years and don't see myself trading them in anytime soon. They're laid back and have a cool 70s vibe.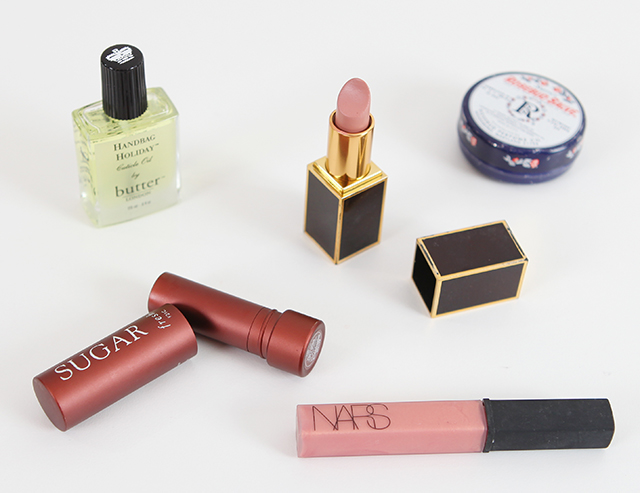 9. NARS Lipgloss. Since I tend to focus makeup more on my eyes, I'm not into having a lot of color on my lips. This shade by NARS gives me the bit of color that I look for without overwhelming my face.
10. Louis Vuitton Zippy Wallet. This is quite possibly the most versatile wallet I've ever owned. The Boy bought this a few years back on another Hawaii trip. We traveled there for our 5 year wedding anniversary. What a surprise when we walked by the store and he said, "Well, let's go in!" Yahtzee! It has plenty of room for money, cards, and coins and has a handy all-around zipper. I will carry this bad boy with me until it falls apart. I absolutely adore it!
11. K.slademade Clutch. This is my let's go out and have drinks after work clutch. Buttery leather. Cute polka dots. Wearable in black or brown. Monogrammed and totally cute!
12. Rosebud Salve. One of two must-have lip balms. It's also great for minor burns and dry knees and elbows. Who knew!
13. Train Pass. Can't live without it.
14. Doublemint Gum. My girl louloumint sends me this gum when I order something from her Etsy shop. She's so awesome and she keeps my breath minty fresh. I love her for that!
15. Colgate Wisp. A tiny disposable toothbrush. Love it.
16. Butter – Handbag Holiday. I first tried this cuticle oil at The Ritz in Maui. Each time I use it, its coconut and pineapple scent transports me back to one of my favorite Hawaiian vacations. It's one of the best moisturizers I've ever used, but one word of caution. Do NOT apply it to your feet while wearing flip flops. Especially if you are running over the Madison Street bridge trying to catch your train. You will fall, and you will look silly.
17. Tom Ford Blush Nude lipstick. So I really hate to admit this, but Kim Kardashian got me to wear nude lip colors, and I love her for that. This one by Tom Ford is creamy and doesn't dry out.
18. Fresh Sugar Lip Treatment. It's super hydrating and nothing, not even the Rosebud Salve beats this lip balm. It's kinda pricey but completely worth it!
Read More On House Of Hipsters