Packing The Perfect Carry-On
Last Updated on January 20, 2022
A month ago I was enjoying some R&R in Hawaii and oh how I miss it so! Because we left for 2 weeks and half of our vacation was spent with my husband's co-workers, I had to pack smart…and that included my carry-on bag. It got me thinking, what makes the perfect carry-on? This flight in particular was about 10 hours because I'm not a good flyer (all I can think about is twisted metal and plunging into the ocean… I'm petrified), I have to stay completely entertained (and partially tranquilized). We upgraded to first-class lay flats, so that helped tremendously, but what was in my bag? Here is a sneaky peek.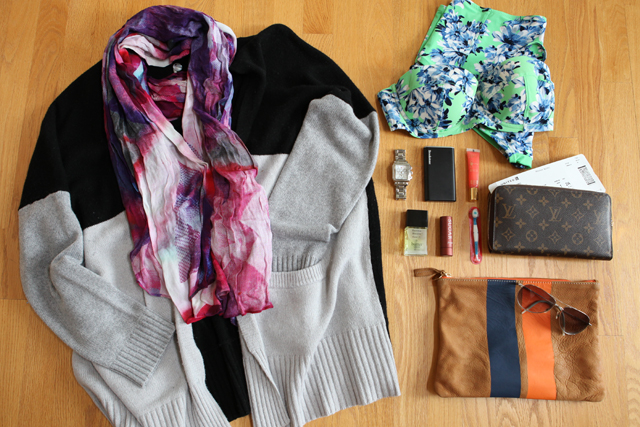 I think the most important thing to me is the bag itself. It has to be roomy, lightweight, and pretty to look at doesn't hurt either. What my magazines do not cover, I know my gold-covered iPad will have me covered. books, movies, and music are all I need to pass 8 hours worry-free. my Bose noise-canceling headphones are amazing…even if you are not listening to audio, they keep the chatter out and your flight quiet. A backup battery keeps my tech charged for the duration of the flight, and I don't need to fret about battery life preservation.
My skin tends to get really dried out while flying, so hand cream, cuticle oil, and facial moisturizer are a given. The pressurized air increases your skin's oil production, so I combat that with a little help from a tiny bottle of Priori moisturizer…it's hydrating, plus it's SPF 30, so when you are standing outside waiting for that rental car, your face is already prepared for the sun! Fresh Sugar lip treatment has been a lifesaver for chapped lips (I even use it on my kids). It smells amazing and makes your lips so soft! I received it as a sample and immediately bought more when my tiny tube ran out…I know it is pricy for a lip balm but it lasts forever. If I want to add a little color, I use urban decay's lip love honey-infused lip gloss. The smell is divine.
Sometimes after a couple of alcoholic beverages, my mouth feels like a cat pooped in it…those disposable toothbrushes are just the ticket to keeping my mouth from feeling like a litterbox. In fact, I carry them daily in my purse. my final dryness protection is Butter's Handbag Holiday Cuticle Oil. It smells fabu…like vacation and a pina colada and someday I'd like to swim in a vat of it. For my hair, a few hair clips keep my topknot in place…and always have a sweet pair of aviators…I like sunnies better than an eye mask because I can wear them yet still look around the cabin of the plane.
I know you can get a blanket on the flight, but being a slight (ok, freakish) germaphobe, I choose to bring a cozy cardigan and colorful scarf. it keeps me warm and my mind doesn't go into a neurotic tizzy thinking about the last person who uses my blanket. an easy, quick-release watch is great for getting thru security without fumbling around with bands and holes. this one by Michele is a nice easy on, easy off option and keeps you clear of the metal detector. we usually travel to a warm-weather destination, and my travel footwear is not always conducive to beach weather, so I like to carry a change of sandals.
On my first plane trip ever, the airline lost my bags…I didn't get them back for 3 days, so learned at an early age to be prepared for the worst. I'd have such a frowny face if I arrived in Hawaii with no bikini…I usually pack an extra in my carry-on just in case. Even if I have to live in the same clothes for 3 days, at least I can sit by the pool and drown my sorrows in a fancy fruity cocktail with an umbrella on the side. this swimsuit by j.crew has more of a high-waisted retro look and coverage on the backside area…which I'm partial to.
My wallet and clutch keep all my tiny bottles and such rounded up in an easy-to-find compartment…everything stays organized and the clutch comes in handy after your arrival for dining out. so there ya have it…did I miss anything? do you have any essentials that I missed?