West Elm is one of my favorite home furnishing stores, and they have been killing it lately. They have such a clean, modern look that really fits my decor of mixing old and new with a twist of Mid Century Modern.
For today's post, I decided to pull together a few of my absolute favorites. Managing to restrain myself and keep it to a Top 10 list. Soooo difficult! Seriously you guys, I swear I could buy every single item in this store. But alas, I cannot. The Boy might string me up by my toes and have me publicly shamed if I did so.
However, if you are looking for something sweet for mom, dad, sister, brother, BFF, or just for yourself (which OMG, there's only 7 more Fridays until Christmas…yikes! Get on that already!) I thought this little list might help ya out. Give you some gift giving ideas. So let's get on with it, shall we? BTW, ALL images below are from West Elm.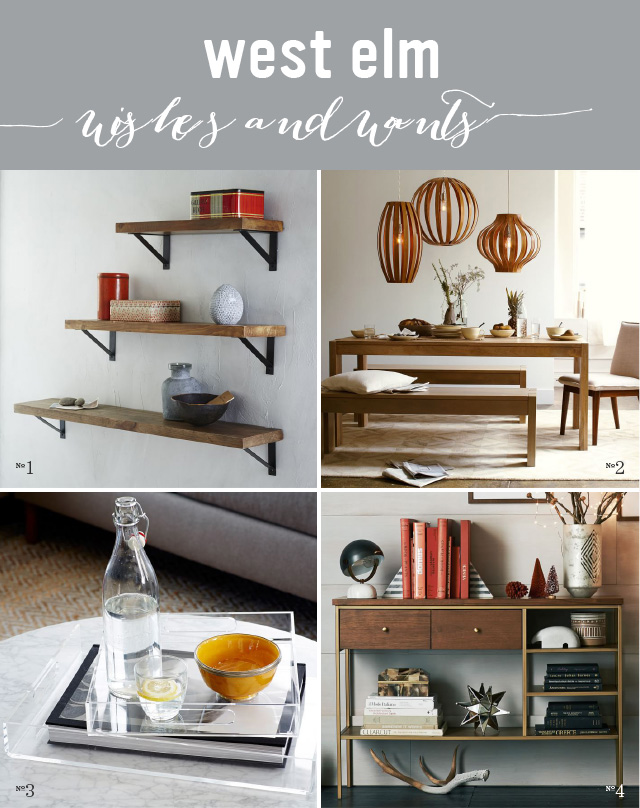 MORE AFTER THE JUMP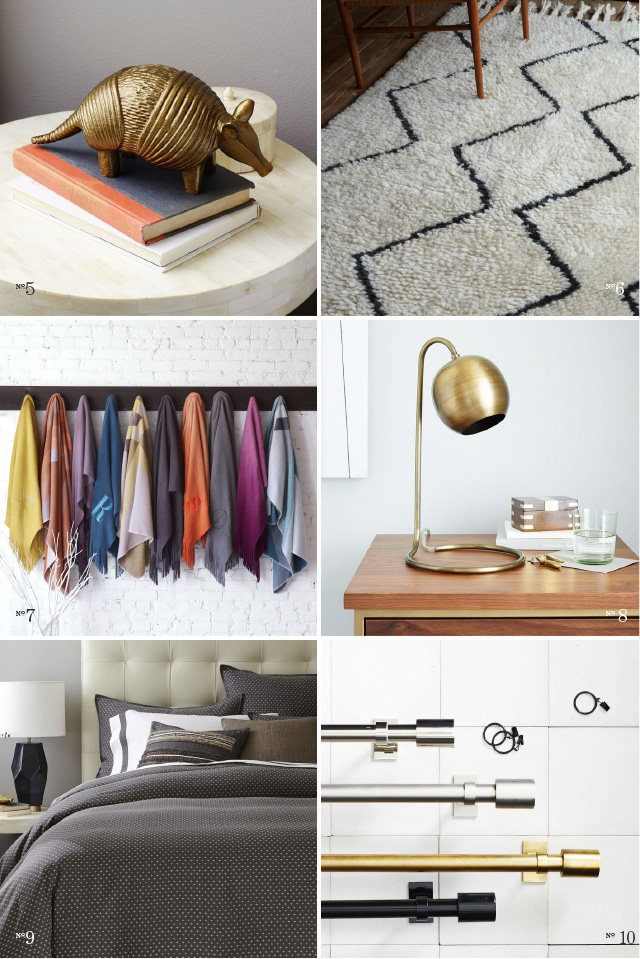 1. The Floating Shelves are amazing, am I right? I would put them in a hallway, kitchen, bedroom, bathroom. Anywhere.
2. These Bentwood Pendents give off the most amazing glow and light show after dark.
3. I've seen this Acrylic Tray popping up everywhere and have been lusting over it for months now. Picture a nice stack of books, candle, vessel and floral wrangled in this puppy on a coffee table.
4. Okay little Nook Table, get in my house already…and you are on sale! I love your brass legs you little sassy one. I can see you replacing my hairpin leg table from Craigslist in the front room. *gasp*
5. My heart holds a special little spot for brass miniatures and this sweet Armadillo is just the ticket.
6. The Souk Rug. Mic drop. The rug everyone on the planet owns except me. The rug I finally talked The Boy into purchasing when it was 20% off, but my moment of victory was crushed when it was no longer in stock. This will not happen again. You will be mine Souk Rug. You can keep trying to allude me, but you will be mine.
7. My children fight over these throws. They are gorgeous, ombré, and they really are THE SOFTEST. After luring a child away with chocolate, I curl up under it myself.
8. The Scoop Table Lamp is great for nightstands. Task lamps will save space on the small table top and this one is on sale!
9. I've been eyeing the Star Geo Duvet for a couple months now. Clutch the pearls, it would look so nice in my guest bedroom (along with a nice bright coat of white paint).
10. Brass curtain rods? Yes please, I'll take 5.
So what are your favorites? Are any from my list? Anything that I missed?