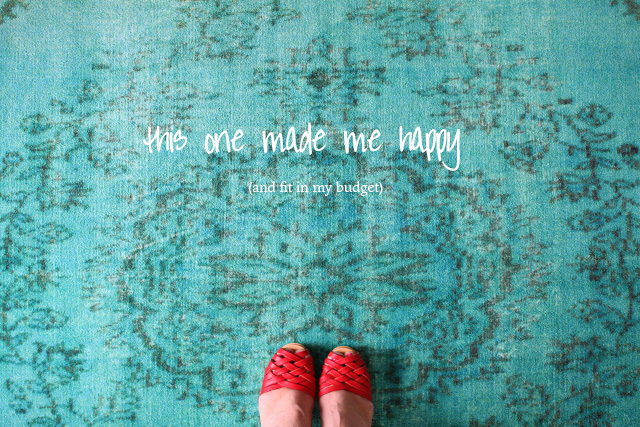 hey guys! remember my post where i needed some advice on a rug for the foyer? guess what? I FINALLY CHOSE A RUG! woohoo! and i'm dancing like a giddy school girl and doing a jig! i seriously couldn't be happier…it adds such a bright punch of color to the house.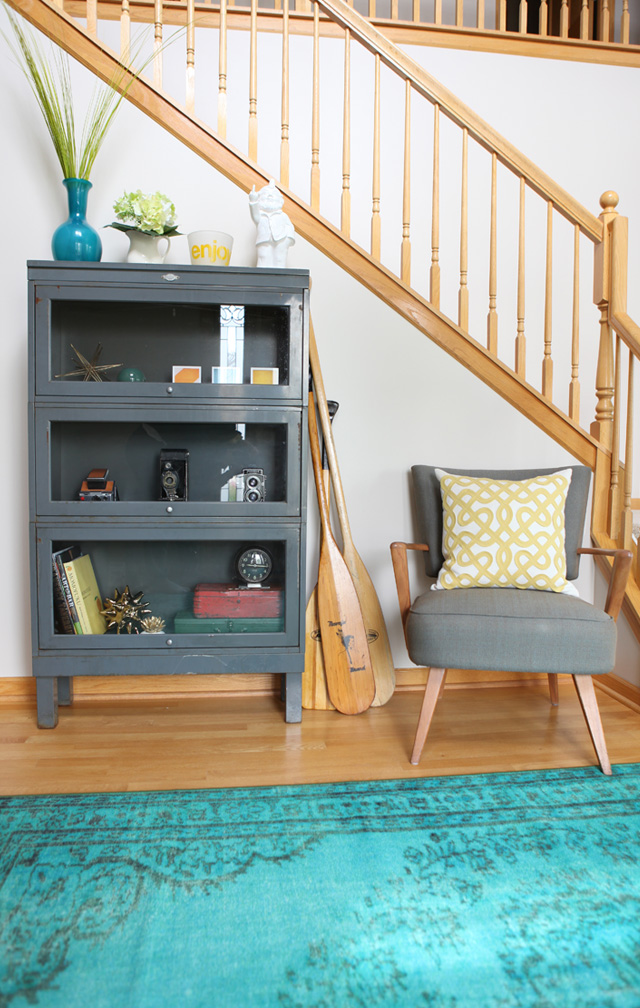 i bought the nuLoom remade overdyed turquoise rug from wayfair.com. i will have to say, when i received it, i was a bit nervous. the edging was more of a dull hunter gray green and my heart sunk. i thought oh great, i've just purchased a rug to match my gray barrister cabinet and gray/green haywood wakefield chair. epic online purchase fail, right? WRONG! i slowly and sadly unwrapped it, and to my surprise, it was EXACTLY what was pictured. the turquoise was perfection! the distressing was perfection! it was exactly what i wanted. YEAH! GIANT WIN!
i also had another wonderful surprise before i made the final decision. ok, bit of back story. see, the boy walked out of his office and said, so, we need a rug huh? awesome, he read the post, no explanation is needed…yes, yes, we need a rug (or two but that can be chatted about later dear). he sat down with me and we looked at them together, and we took in your collective comments. much to my surprise, he was drawn to the persians as well. and he said, "expensive? well, how much can a rug really cost?"
ok, i'm smart here guys, read and learn…
me: well honey, how much do you think an expensive vintage persian rug costs?
the boy: well, it's used, so, probably about $500
me: bahahahaha, ummmmm, no (click on link to sample persian costing $2000)
the boy: holy shit! are you kidding me?
me: ok, so that's a hard no on the persian
the boy: i mean, i just can't believe a rug can be that expensive
me: well, there is a more inexpensive one, but i'm not sure how you will like the color
the boy: show it to me…mmmmm, ya, that's bright, how big do you need it?
me: i think 9′ X 12′
the boy: oh, that's only $500, that is way better then $2000…WAIT A SECOND! you just talked me into what i thought was the most expensive rug…$500…you crafty stinker
and that my readers, it how it's done. the rug was on sale for $400 for the 9′ X 12'…but, this is when it gets better. see, i know not to eyeball it…i measured not once, not twice, but three times a lady. my stairs stuck out too far and only the 8′ X 10′ would fit…at the time, the 8′ X 10′ was also on sale, so this momma bought it for only $225…SURPRISE! which made the boy even happier and made room in my budget for those sweet red swedish hasbeens…also on sale (another story…i told the boy i was in need of a pair of swedish hasbeens, he turns, looks at me and says, you need to buy ABBA…ok, it was really funny at the time…guess you had to be there)
anyhoo, this is how it looks from above! and yes, i still need a plant for that planter…but i promise you that to-do list IS coming along.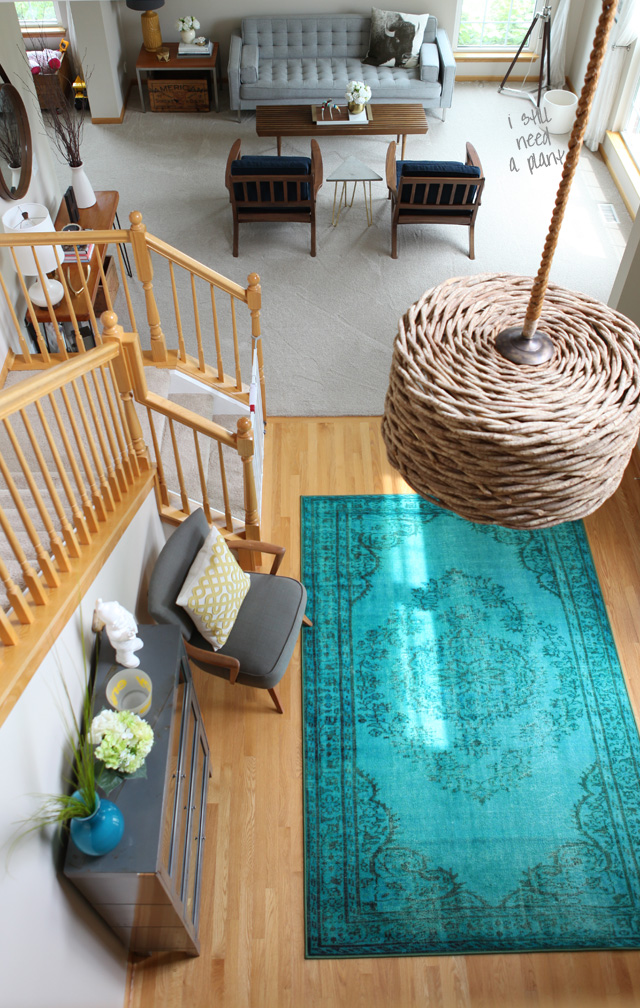 linking up with Coastal Charm!   Whipperberry   Huckleberry Love    Setting for Four     Sugar Bee Crafts     The Dedicated House    Domestically Speaking   Sweet Haute   LouLouGirls   Sweet Bella Roos   AKA Designs   Life On Lake Shore Drive   It's Overflowing   Funky Junk Interiors   Whipperberry    The Turquoise Home   Huckleberry Love    Setting For Four    The Newlywed Pilgrimage    Lou Lou Girls    Lipgloss and Crayons    Kitchen Table Art   A Pinch of Joy    Tumbleweed Contessa   Mod Vintage Life    I Should Be Mopping The Floor     That's What Che Said    The Winthrop Chronicles    Brave New Home    Carolyn's Homework    Mod Vintage Life    The Charm of Home    Amaze Me Monday    Knick Of Time