Well, not really. My birthday is actually a couple weeks away, but last weekend The Boy pull one over on me. Which I have to be honest with you…is not an easy task. I can sense anything unusual happening in the house like a hipster without his beard and beanie. I knew something was up because I asked him if I could go to the Kinfolk Weekend Retreat at Camp Wandawega. Oh sure, of course, have fun…wait, what weekend are we talkin' about here? October 17-18. Suddenly a look of panic crossed his face, and he says, "That's opening weekend for duck hunting." Ummm, ok…hunt Sunday rather than Saturday. Problem solved. I pushed a tiny bit more…I really wanted to go! He finally said, "Don't ask questions and DO NOT get upset. You can go any other day except October 18." Well darn! And quite mysterious.
Friday he tells me to pack an overnight bag for Saturday night. Are we going to Paris? Are we? Are we? Are we? Ya, NO! BUT, we ARE going out. Ummm, ok. What about our children??? You do remember we have children, right? Covered. Apparently grandma and grandpa were coming down. SWEET! Where we going? Can't tell ya that. Well darn!
Saturday morning I was told to be ready at 1PM, and we promptly left at 2:15PM sharp…it's how I roll. I also asked how I should dress. Normally I'm a t-shirt and jeans kinda gal, but if we're going out on the town, I need to play the part. I'm instructed skirt over jeans. Right on, something cute is in order.
Traffic into the city was pretty horrendous, but we finally made it to Destination #1. The Thompson Hotel Chicago. We had stayed here a couple months prior for for a wedding. Let me tell you, this place rocks. Super swank and funky as all get out. The staff, oh so sweet. And they pipe in the most amazing smell to the lobby. Seriously, I want my entire house and body to smell like this. It's like the best candle and perfume wrapped with in bow. If someone at The Thompson is reading this, please, I'm begging you…please tell me the scent. I must have it.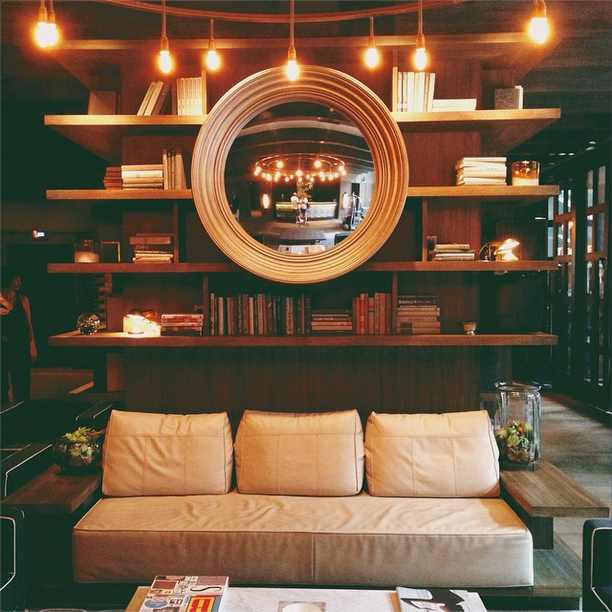 MORE AFTER THE JUMP