Last Saturday I was lucky enough to attend the Renegade Craft Fair in Chicago with my little buddy Laura from Avery Street Design. Minus a minor diversion by the navigation lady who lives in the speakers of my car and a parking delay (not to mention almost getting crashed by a white van…that might or might not have been my fault…whoopsies), we had SOOOOOOOO much fun!
Now, when I think of craft fairs, I normally think of doilies, crocheted what-nots, odd garden trinkets and old ladies, but this craft fair was anything but! This well-curated event showcased the best and brightest of the indie craft and design world. Over 300 DIY-ers featured products ranging from leather goods (my favorite was the buttery, Italian leather handmade totes that were found at the FOUNT Leather Goods booth, helloooooo Santa!), jewelry design, ceramics, paper goods and more.
After making our way through some crazy traffic on the Kennedy Expressway and an excursion through Logan Square, we arrived on Division Street in Wicker Park! Hooray for finally getting out of the car (not to mention the waffle fries)!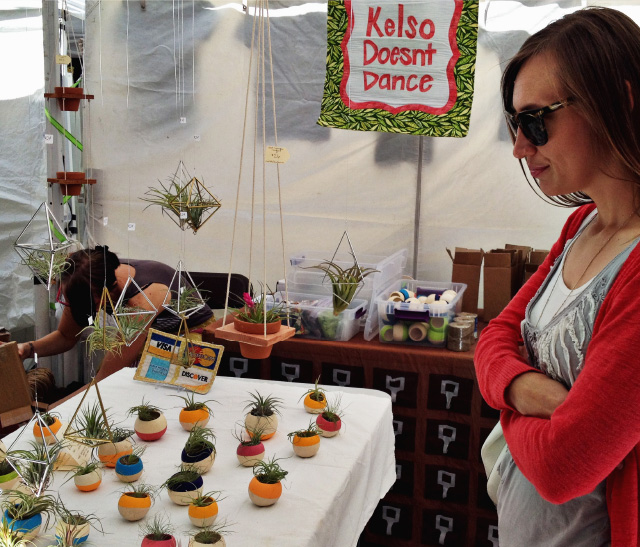 One of our first stops was at this cute air plant booth by Kelso Doesn't Dance. Kelsey Cooper was seriously, one of the sweetest girls we met at the fair. She apparently lugged 3 suitcases, a backpack and purse on a plane by herself to attend. Not to mention all the boxes she shipped in. This gal was well stocked…she also wore the cutest apron. That's her bending down to string more air plant hangers. I should have waited for her to sit up because she had the cutest pink sunglasses on.
The air plant hangers are made of brass or aluminum tubing, wire, fishing line and crimp beads and are inspired by the Finnish tradition of Himmeli, Christmas decorations made of straw. She also makes these cute air plant pods. I wanted everything! So hard to pick just one. To buy one of your own, you can find her on Etsy.