The other day I fed an internet troll. Normally I would delete the comment and move on, but that particular morning I was feeling frisky and let that troll's voice be heard. I mean, she did have a point although her delivery needed a bit of work. I posted this photo with the caption of, "I woke up, got some coffee and decide this room needs to change. Ever want to burn it all and start over? #pleasetellmeimnottheonlyone".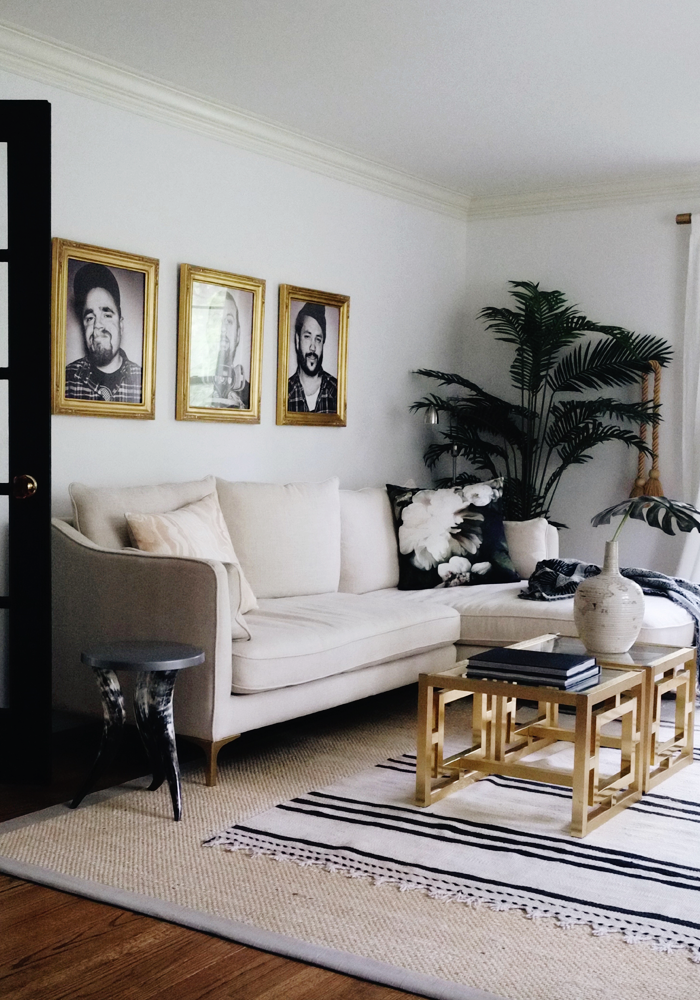 MORE DRAMA UNFOLDS AFTER THE JUMP…
Granted I would never haul everything in this space to the backyard and start a bonfire. My caption was loaded with sarcasm. @byond_stories commented, "Hm, no this is weird to me. My home is not a stage, every item has a function to a memory or experience. It's not a decor. This is some fast food mentality you are promoting." Upon reading this I had the most epic eye roll and thought well she's obviously not am HOH follower. Which was true. She didn't. She knew nothing about me, so I responded with, "well you're in the wrong place LOL".
She immediately responded with, "I think you surround yourself with objects that have no meaning, this is why you need to change so often. Stop this kind of behavior, we are producing too much crap in this world, it's single use plastic cup mentality."
Oh it's on @byond_stories. Come at me. Within seconds my fellow design addicts jumped in on the conversation (here if you'd like to read through the comments). I took a step back and thought…I promote thrifting, reusing, repurposing…I do decorate with items that have meaning damnit…let's take a step back and see where this goes. I shared her comments on Stories and opened the conversation…let's get a bit juicy shall we…with one caveat…everyone needs to be respectful. I'll put the snarky giphys away…for now.
Within minutes she retorted with, "you guys can't take any food for thought, no wonder all your homes look the same. Hahahaha.", and with that she blocked me. Insert yet another epic eye roll. So much for being respectful. You're in my world dissing a whole lotta people who want to jump down your throat. If you want your message to be heard, don't attack and hide. Also, when you block me, that does absolutely nothing. Your comment still resides on my feed. I can still see it…and so can everyone else.
Anger and crazy aside, I did ponder her words. So often I talk about the thrill of the hunt when shopping for vintage. It can be exciting. But what really happens when I wake up in the morning, wanting to burn it all and start over? Normally I share the switcheroo. But what if I'm over it? I owned chevron back in the day. What happened to those old vases? As much as it kills me to use the term influencer, should I, as an influencer, be held responsible to share the release of an item? Do you really want to see the rug I passed onto a friend in her living room? Probably not.
Let's take a peek at the space I wanted to "burn", shall we? It hasn't changed much in the 3 and a half years we've owned the house. Two chairs were swapped out along with the art print that was falling apart. Besides that, the sofa, tables, pillows, lamps, credenza, etagere, rugs and accessories have remained the same…for almost 4 years…for a home decor blogger, I'd say that is somewhat impressive.
Let's stop right there for one moment. There was also a lot of side chatter about new items being unacceptable…especially items from Target and Walmart…which is something I do not agree with whatsoever. Walmart's home decor is lit right now and if you don't believe me check this post and this post. When does secondhand take precedence over new? Well, that's up to you. Everyone is going to have a different opinion. Some many comments and opinions on this post…I had to dissect.
Do I condone buying stuff just to buy stuff? Absolutely not. Although you're keeping the UPS man employed, you'll drain your bank account. Stuff does not make you feel better…I know this for a fact. There are many influencers out there saying buy this magical cream, buy that lipstick, look at my shoes and my new skirt and bag, #lktoknowit y'all. I write this with complete transparency — if you look thru my feed, you will find a few of these commissioned based posts. If you do stumble upon one, it's something I love, get asked about the source repetitively, or it's an ad where a brand has requested tracking for ROI. Do I make a lot of money on posts like that? Nope. Could I? Probably. I just chose not to. There are days I wish I was a fashion blogger cuz those chicks make bank. If you're an influencer reading this…please promote responsibly…most of us do, but there's a few that need to be wrangled in.
The main message of House of Hipsters is, decorate with what makes you happy and give your home added personality. A bit of whimsy and weirdness is fun. Use what you have. Switch things around and play with home decor. Buy what you love and only what you can afford. Mix old and new.
Sometimes I see vintage treasures online that I covet. Those items are added to my unicorn list. When I shop estate sales, many times it's because I think one of my unicorns might live there. That is the thrill of the hunt. Many times I leave empty handed. Other times I leave with a few treasures. Once in a blue moon, I find my beloved unicorn.
I put myself out there on social media for the world to critique, criticize, and enjoy. When I originally started sharing my life online years ago, I never in a million years thought anyone would read this little corner of the interwebs. I have pretty thick skin, but remember, if there is ever a comment like @byond_stories, one must be prepared to be put on shout. I am a person. This is my home and my job. My family lives here. This is my hobby. This is my passion.
House Of Hipsters is a tribe of like-minded folks who love interiors and eclectic home decor. My tribe consists of artists who think of their home as a stage. They are painters and every room is a canvas where they express themselves. Be nice. And when criticism is meant with opposition, don't block and hide. If you were brave enough to write it, then be brave enough to defend it. Don't try to change us, but offer something constructive for us to step back and ponder. THAT is how you make a difference. I tell my kids, "you catch more flies with honey".
Most importantly, and this is a gentle reminder for everyone…including myself…on all social media platforms, let's be nice. The world is difficult enough to navigate. If some internet troll rears their ugly head, tread lightly. Remember, they're only there to cause a disruption. They don't know you…and if they do…maybe they aren't your friend. Social media should not be stressful, and if it is, just turn it off for a bit. Take a break. Go for a walk…or redecorate a room.