I'm teaming up with Yellow Brick Home and Making It Lovely for one heck of a flash sale and the kicker…ALL proceeds go to charity. But we're not just stopping there, we are raffling off so much goodness! Some srsly amazing sponsors have stepped up to make this one heck of a day. You DO NOT wanna miss this incredible event. You could win gift cards to Rejuvenation, Hygge & West, Article, and more! Plus A FREE NIGHT'S STAY AT THE ALL NEW ST. JANE HOTEL ON MICHIGAN AVE!!!!! Plus a framed Kyla Print from Josh Young Design House! Plus fun vintage items from The Savoy Flea and Strangelovely! Srsly, as I was writing this, I kinda couldn't believe how big this event is going to be. Clutch the pearls! So you're probably thinking dang girl, gimme the deets already. Alight, alright. Let's get into it!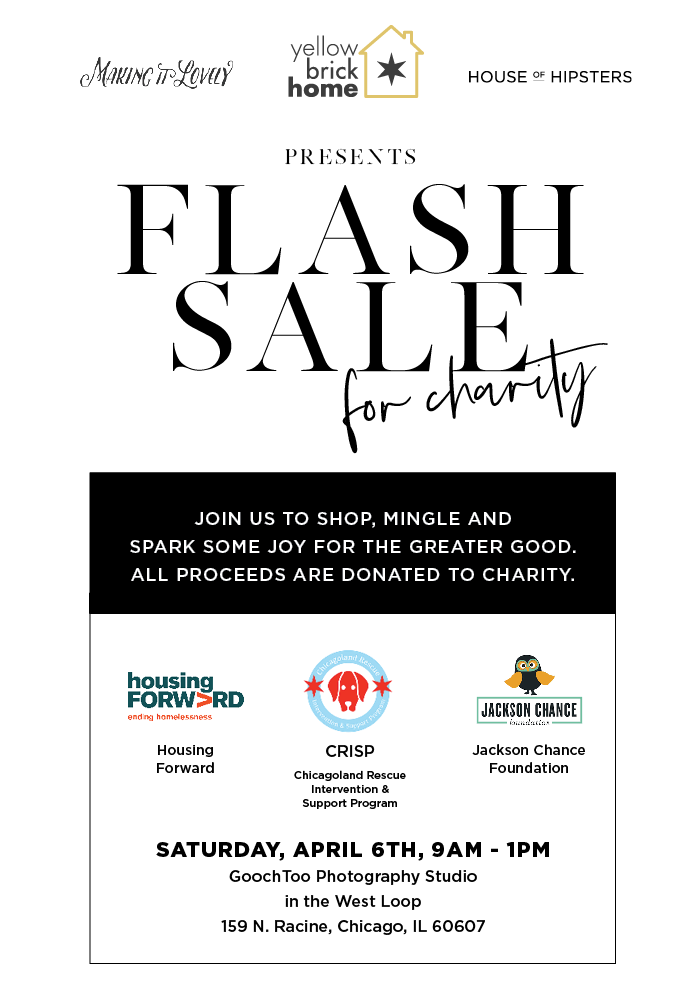 MORE AFTER THE JUMP…
A few months ago Kim from Yellow Brick Home reached out to see if I wanted to participate in a blogger flash sale for charity. Well, being a home decor blogger and vintage hoarder in need of a purge I said, "Heck ya! I'm all in!" Immediately I started to Mari Kando the house.
So, first and foremost let's get into the charities. ALL proceeds for this flash sale will be split equally between the 3 organizations. Nicole chose Housing Forward. They transition individuals and families out of homelessness. Kim and Scott chose CRISP Chicagoland's Rescue Intervention and Support Program. They help pet owners keep their pets rather than surrendering them. They also place pets in immediate rescue groups or no-kill shelters.
I chose a charity near and dear to my heart — Jackson Chance Foundation. They offer parking passes to families with babies in the neonatal intensive care unit (NICU). NICU parking fees in Chicago can cost over $1000 a month, and many parents can't afford to see their babies. Each in and out costs money and parking on the street in nearly impossible. The parking passes allow parents to say good morning, stop by on lunch break, and make it back for a kiss goodnight.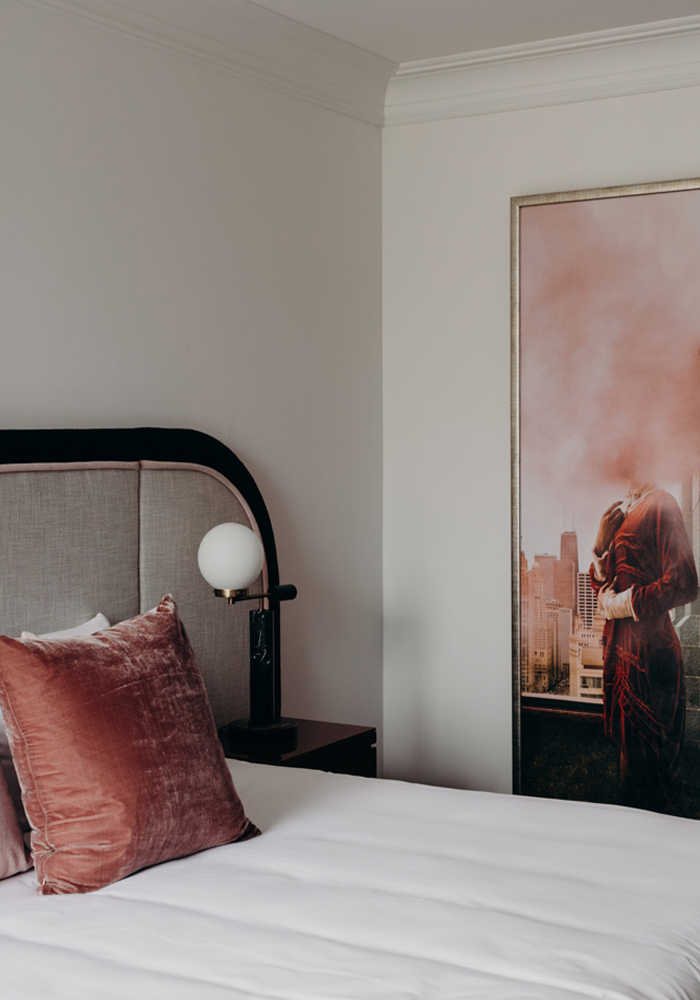 St. Jane Hotel   ///   ERMERGERRRRG! The decor!
So what's up for grabs? Here's a little taste of what us bloggers are donating to sell: marble bistro tables, Serena and Lily lighting, headboard, media console, piles of artwork, lucite tray, new in box Delta showerheads, sconces, vases and statues and pillows oh my! Screenprinting kit that's never been open, lamps, frames, slipper chair, curtains, mirrors and sooooo much more!
Plus The Savoy Flea and Strangelovely are donating some vintage home decor as well! AND there's more…Grounds & Hounds will be donating freshly brewed coffee at the event! HOLY SCHMOLY YOU GUYS!!!! YES THERE'S MORE!
WE HAVE RAFFLE SPONSORS!!!!
Raffle tickets will be sold for $5 each or 5 for $20. 
This is what you could win in no particular order…
Josh Young Design House has donated a Kyla Frame!
1 FREE Night's Stay at the St. Jane Hotel on Michigan Ave.
$500 Gift Card at Rejuvenation
2 Free Frames from Framebridge ($418 value)
$500 Gift Card Plus 4 FREE Pillows at Hygge & West (over $700 value)
Unison Living Room Prize Package Plus $100 Gift Card
Unison Serveware Prize Package Plus $100 Gift Card
$500 Gift Card at Schoolhouse Electric
$250 Gift Card at Article
Sydney Hale Gift Basket ($200 value)
The CrossWave Pet Pro from BISSELL ($320 value)
$250 Gift Card at MegMade
AND HUMBOLDT HOUSE JUST JOINED THE GROUP!!!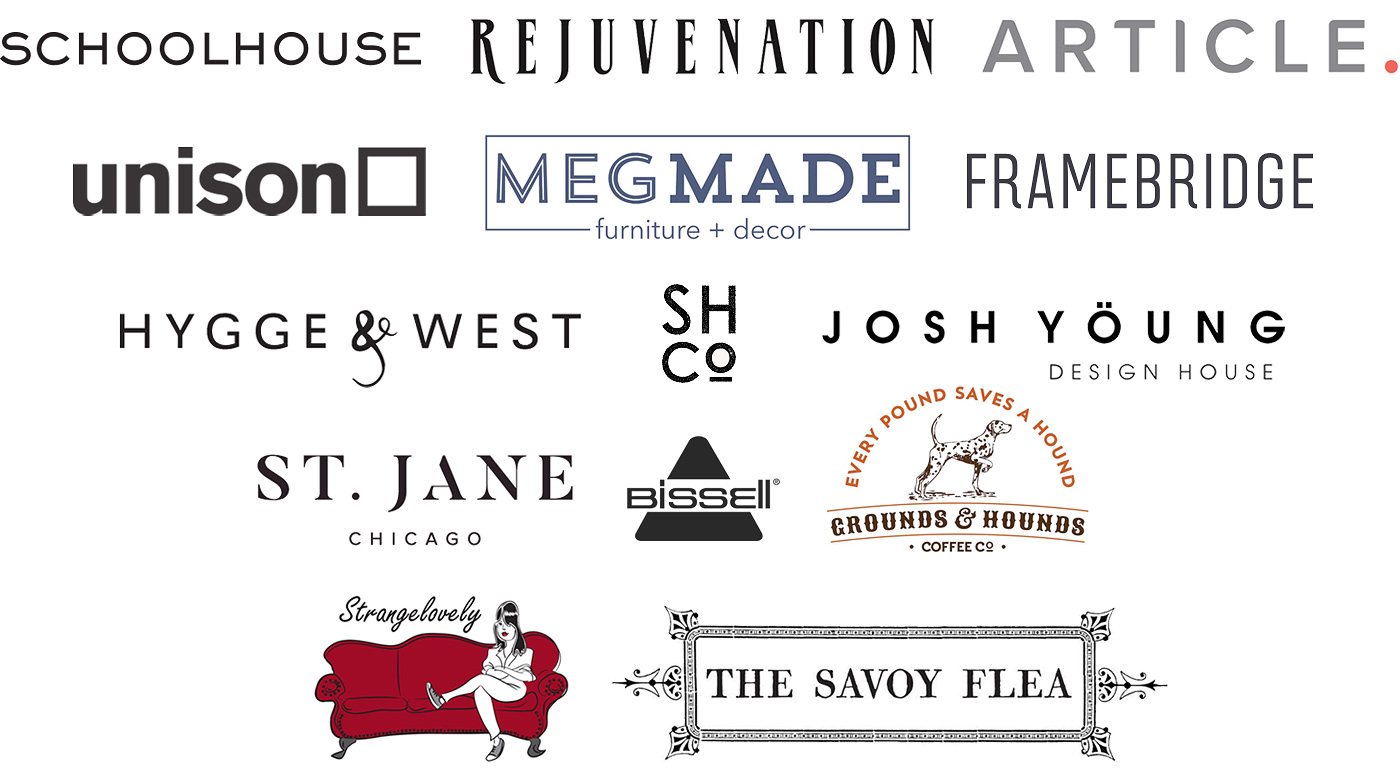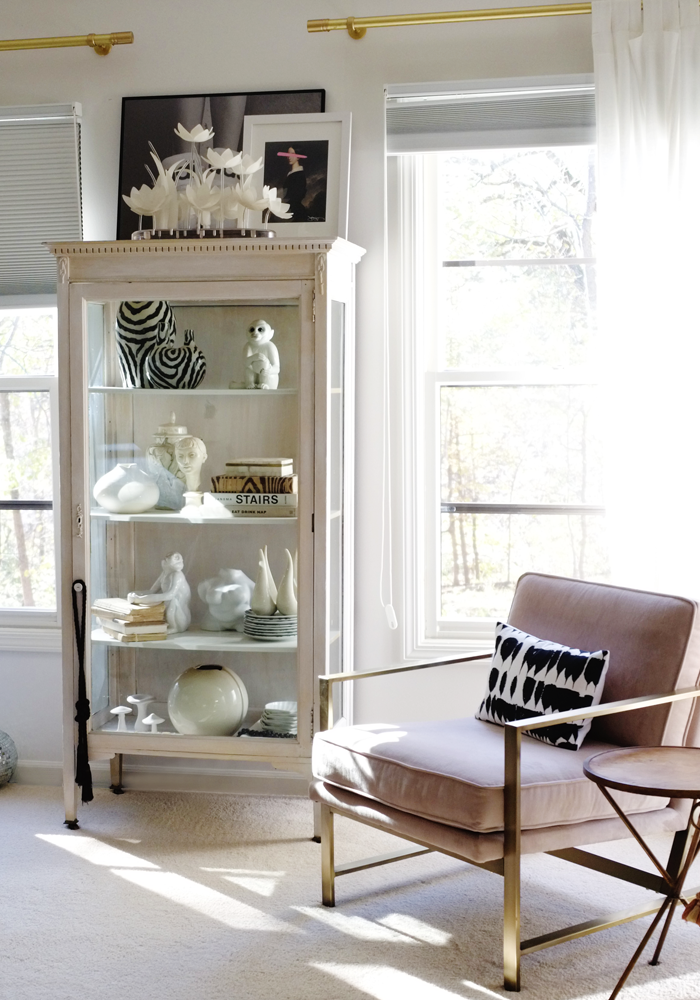 Josh Young Design House Vintage Print With Pink Swash
Every last dollar raised will be split equally between the 3 charities. AND THERE'S EVEN MORE…see, I told you this event was gonna be huge…there will be a live DJ and some lite bites!!!
MARK YOUR CALENDAR FOR SATURDAY, APRIL 6 and come to the GoochToo Photography Studio in the West Loop. 159 N. Racine in Chicago. We open the doors at 9AM. We suggest getting in line early because the good stuff will go first and fast. Check our Instagram Stories for sneaky peeks of treasures to come. Even if you're not buying, please stop in, say hi and come hang with us for a bit.
Also, have you Marie Kando'd your place? Have stuff you think is awesome just not in your place? Let us know and donate it!
Wanna help out the day of the sale? Let us know! Come on down! You're the next contestant on the price is right! Srsly, email us…we're gonna need help =)