February is the month cupid flies around and shoots you with an arrow of stress — what to buy your Valentine. If you're shrugging your shoulders, you're in luck. I've rounded up a few of my all-time favorite Valentine's Day gifts for him and for her. Let's get shopping.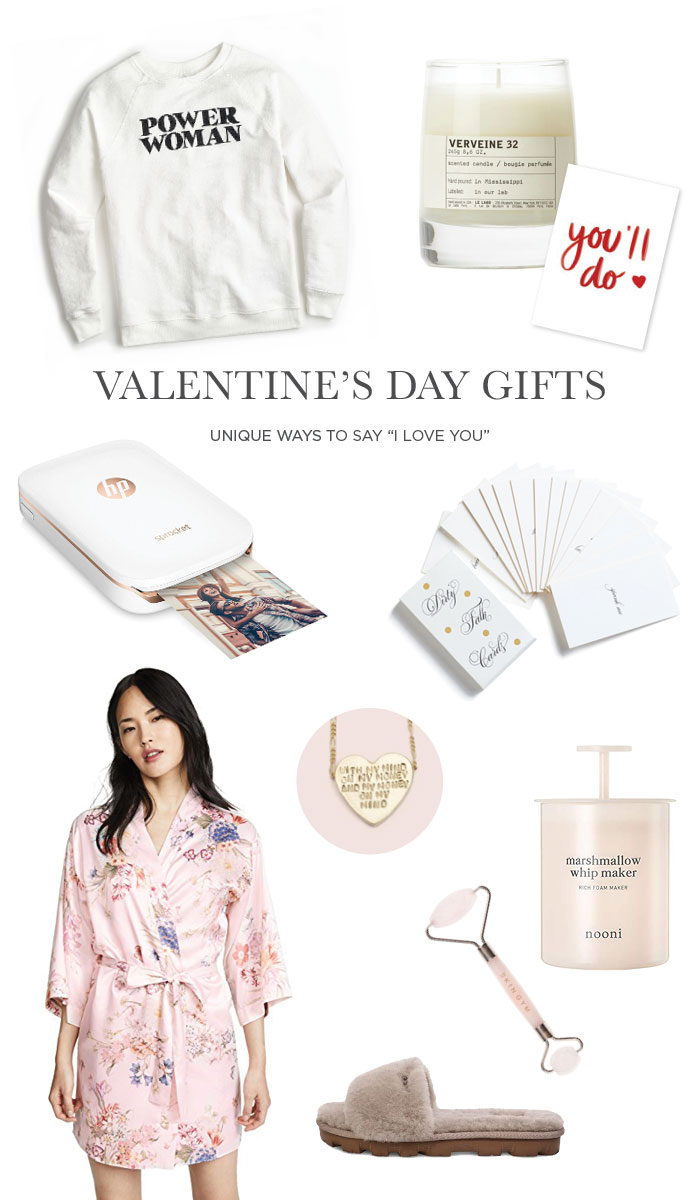 MORE AFTER THE JUMP…
First off you gotta treat your Galentine and what better way than this sweatshirt? The future is female, right?
It's no coincidence that Le Labo timed its new scent release with Valentine's Day. Verveine 32 is a verbena scented candle — a blend of zesty lime, eucalyptus and violet leaves. Please show up on my doorstep.
I love finding cute and silly cards on Etsy and this "You'll Do!" card is perfect for The Boy.
Every photo I snap these days is on my iPhone, but I don't print enough of them. This small, on-the-go printer is just the ticket. Perfect for parties, events and date night.
Spice up your date night with the Dirty Talk Card Set. Your significant other won't be disappointed…do I need to say more?
I love a pretty pink kimono and this one would look good after the shower or slip it over a white tee and jeans for a night out on the town. Oh, and this one is super affordable at $58!
These gold heart necklaces are the bomb diggetty. Personalize it with your own saying or if you're not feeling witty go with "My Mind On My Money And My Money On My Mind".
If Valentine's Day has you down, treat yourself to a spa night facial with this fluffy marshmallow foam cleanser. Great for sensitive skin.
When you've finished cleansing, eliminate all the toxins with a rose quartz roller.
Now that your face is feeling refreshed, treat yourself to these luxurious slippers and you're ready to Netflix and chill.