Last night our neighbors stopped by for a cocktail. The Boy asked, "do you know what day it is?" No one knew, and that was a glorious feeling for all. Was it Tuesday? Thursday? Meh, did it matter? Nope. My wine glass was full, and the kids were laughing. BTDubs, it was Friday night. The week between Christmas and New Year's for us has always been a time to relax and recharge, and that's exactly what I and my little family have done.
As we gear up for the new year, I can't help but be nervous and excited all at the same time. January 2017 had me blissfully employed at a downtown ad agency and bloggery was just a hobby. July 2017 through me for a loop with a layoff and sent me swimming through the waves of unemployment. I was all…
MORE AFTER THE JUMP…
During the last 6 months, I've found myself doing graphic design for Pinterest at The Pin Factory, Quintessential Barrington magazine hired me for some photography and a few local Barrington businesses hired me for design work, Karin, the owner of Steeplechase opened her arms and took me under her wing, and with her help and the help of The Savoy Flea, I've started a successful online vintage shop of my own.
2017, you had me hustling. I worked day and night figuring out what I like to do, what I want to do, and what I never want to do again. Over the last 6 months, I found incredible kindness in friends, acquaintances, and complete strangers. Kindness I've never know, and for that, I'll be eternally grateful. I've also became a firm believer in the laws of attraction. If you believe you can do it, anything is possible. ANYTHING! Just keep telling yourself you can do it.
Something I struggled to find time for pre-July 2017, was blogging. That quickly changed. Working those laws of attraction, I told myself, "Kyla, you are a blogger."  Yes, there are days I don't feel like writing but other days, I go into over share mode. But I'm grateful you stop by to check in on my little corner of the interwebs, and I'm excited for HOH to evolve in 2018.
Being a graphic designer at heart, I've always dreamed of creating a magazine. No, I'm not starting a printed publication, but I do hope to make the graphics for HOH a bit more jazzy which is something you may have already noticed. Also, I hope to take you on a few personal journeys. One being weight loss and other designing and styling the new house within a budget.
Back in the day, January was always a time I hated at the gym. All these folks with good intentions would be working out in 'my spot" and spin class always started with a cat fight for the last bike. Confession, besides some pilates classes after my layoff and 15 minutes of almost passing out in my first barre class, my workout sessions have been sparse since we moved over a year ago.
As of late, I find myself almost 30 plus pounds heavier and daily hoping, squeezing, and praying to fit into pants. My sister-in-law gave me a get healthy plan, but September is notoriously busy in the graphic design world. She patiently waited. Come January 2018, I vow to join the folks with good intentions at the gym. Yes, I'm sure I'll fall down, but I'm hoping to always dust myself off and climb back on that spin bike.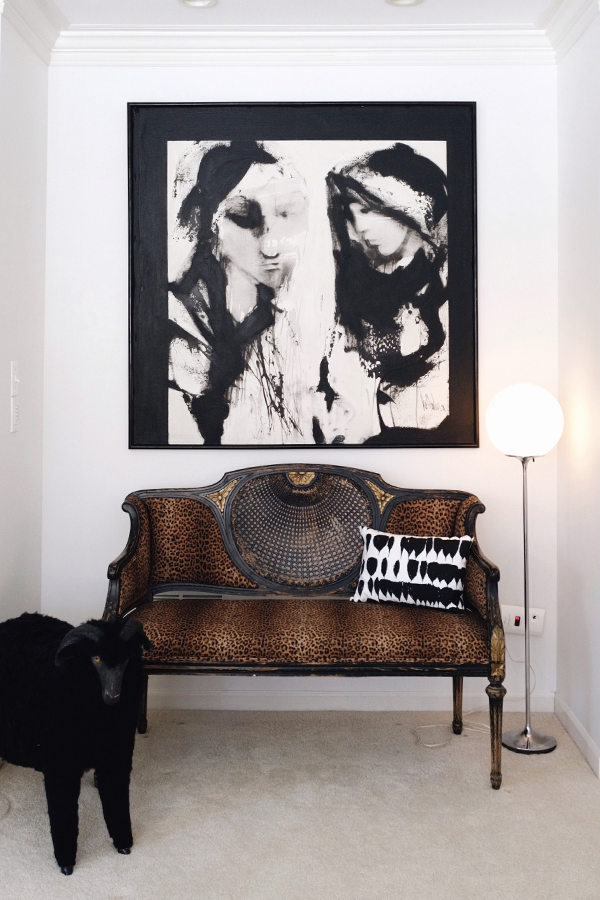 My love for Mid-Century Modern is still here to stay, but I'm finding myself itching for a cha-cha-cha-changes. I've been pinning rooms with more color, and have a new found love for all things mauve. While shopping estate sales, I've been pulled towards Hollywood Regency decor and transforming my style a more classic, understated glam. Is that a thing?
Over the holidays, I started to play musical furniture with that leopard print settee from South Loop Loft in the master bedroom, and this little nook has me all heart eyes. But, those white walls are so sterile. Suddenly I'm looking at fabrics with pattern, paint swatches, and bold wallpaper.
Other rooms on the docket besides the master bedroom are both kids' rooms, the kitchen, wet bar in the living room, and another bathroom. Plus I need to finish my office. Unless we win the lotto, this won't all happen, but a girl can dream, am I right?
I guess what I'm trying to say is, a change is in the air. I'm feeling bold, empowered, creative, and ready to take 2018 by the horns. I can't wait for this new year to begin, and most importantly, I can't wait to share it with you.