Anyone else in the I hate shopping for swimsuits boat? Raise your hand high. For me it's worse than going to the dentist on the 58th floor of the airport…the dentist, elevators, and planes are enough to make me grab a bottle of vodka and hide in my closet. Mix that whole batch of awfulness together, and you got my attitude towards shopping for swimwear. There's nothing quite like walking into a fitting room with 27 suits in hand, sausaging myself  into each, and inevitably leaving empty handed with a frowny face.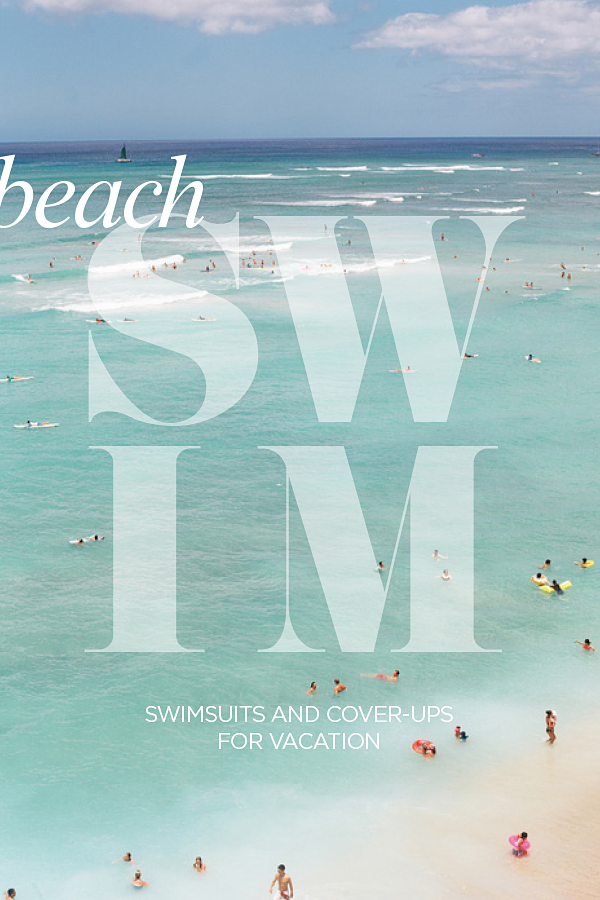 MORE AFTER THE JUMP…
In a few weeks, The Boy and I will embark on a vacation to The Canary Islands (a few of you had been before…what's the weather like? I saw 60° and said, ummmm, that's not warm! But i've been assured it is swim weather, hmmmmmm), and a swimsuit or two is necessary. Time is ticking and my insecurities are in full effect. I'm far from perfect, but instead of focusing my mind on why I didn't go to spin class for the last 6 months and trying to turn back time, Imma start shopping.

Two things I have to keep in mind: this is a work trip for my husband, so my new gear for the sandy beaches should be a bit more on the conservative side. My body isn't like it used to be. After two babies and falling off my gym regime, I personally don't feel comfortable in a bikini. A one-piece is much more my speed…and I much to my surprise, I found some pretty cute ones out there!

On these "work" trips, there's a lot of time spent poppin' bottles on the beach. That means direct sun all day long. Recently, I had a little scare with skin cancer — so a cover up is definitely in order. Last year's Puerto Rico sunscreen fail is still fresh in my mind. I've never been burned so badly in my life. Word to the wise, be sure to rub that spray sunscreen into your skin well and spray a lot of it on your body…if you don't, you will look like a loaf of marbled rye. I have pictures but refuse to ever share them with anyone but my dermatologist. Ever since that day, I've stuck to the old standby — cream in a tube.

Last year, I purchased the Melissa Odebash swimsuit (with the belt) in black and really liked it. It didn't ride up my toosh, and even though it doesn't have cups, I never felt like I wasn't supported. I also purchased the 9seed cover-up which I was also really happy with, but…and there's always a but, right? It wasn't quite dressy enough to wear in the hotel lounge for drinks. I'm thinking the cover-up from Elan might be a bit dressier for a cocktail. What do you think? Got any favorites up above? I'd love to hear your thoughts.
If you like a swimsuit of cover-up from this post, shop the post below for my favorites.