I'm definitely no longer on vacation in Puerto Rico…reality set in weeks ago. But that doesn't mean I can't bring the beach back home. The sun is shining, and the boxes from the move are unpacked (mostly because of The Boy's Type A personality). My job here is done which means I can kick back, relax, and soak up some sun. It's time enjoy the new patio, sponsored by World Market, with a summer time drink in my hand. Today, I'm going to share with you The Lime In The Coconut cocktail recipe because it's magically delicious! If it was acceptable, I'd swim around in a vat of this drink.
And before you scurry back to work, be sure to stop over to Jojotastic because Joanna has a great DIY Ultimate After Sun Soothing Lotion…and believe me, I could have used that after day 1 in Puerto Rico! Ouch!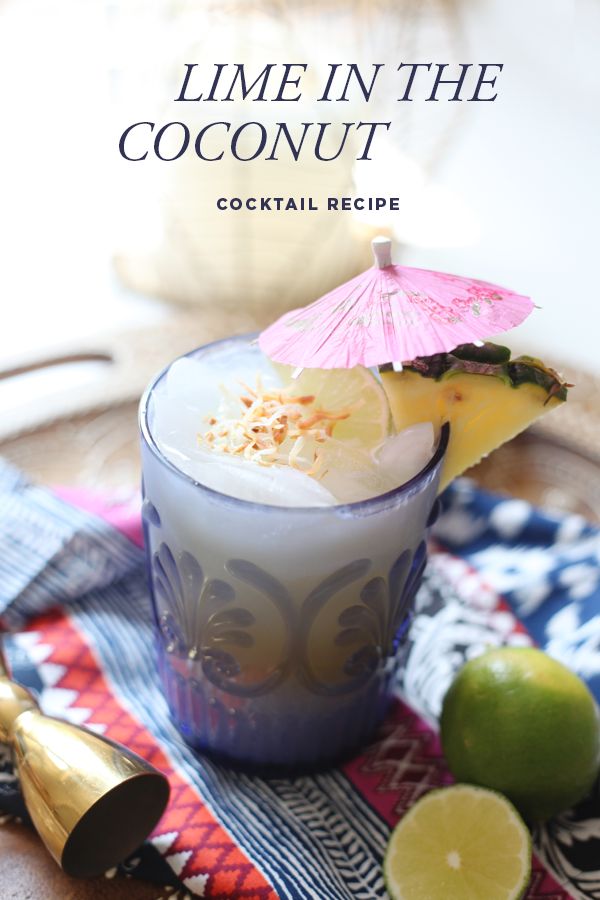 MORE AFTER THE JUMP…
When you're on vacation in the tropics, you've got palm trees, warm salty ocean breeze, sand in your toes…and more often then not, a fruity cocktail on ice, garnished with pineapple and citrus. Press play and read on.
While visiting Hawaii a couple years ago, I ordered The Lime in the Coconut cocktail on Front Street in Lahaina, Maui at Fleetwoods. It's taken a bit of experimentation to perfect the concoction, but I think I've finally figured it out. Today, because I love you, I pass the cocktail recipe on to you my friend.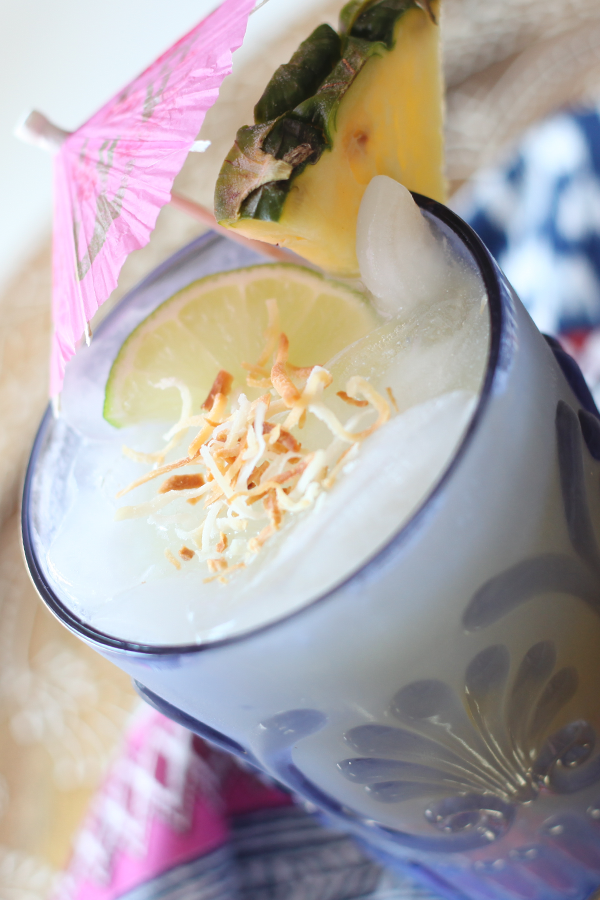 The key ingredient here is real Cream Of Coconut. I happened to be wondering around Binny's one day and found it in the mixer aisle. Thinking back, I remember carefully watching the bartender at Fleetwoods make my drink. He added in this thicker cloudy sweet syrup. This had to be it. The secret sauce to put The Lime in the Coconut…or would that be the coconut in the lime? Either way, let's get on the coconut train and choo-choo to Tropicstown, shall we?
The Lime in the Coconut Cocktail Recipe
INGREDIENTS
1.5 oz. Coconut Vodka
0.5 oz. Pineapple Vodka
1.0 oz. Rose's Sweet & Sour Mix
1.0 oz. Pineapple Juice
0.5 oz. Cream Of Coconut
Squeeze of lime
GARNISH
Pinch of shredded coconut – (toast in a pan)
Slice of pineapple
Lime Wedge
Fancy Pink Parasol Pick
INSTRUCTIONS
Combine all of the ingredients into a cocktail shaker. Add ice. Shake well and strain over ice. Top with a sprinkle of toasted coconut. Garnish with pineapple and lime wedge. Enjoy!
Now find go yourself a hammock and put on some Harry Nilsson. "Put the lime in the coconut, you drink 'em bot' together. Put the lime in the coconut and you'll feel better. Put the lime in the coconut, drink 'em bot' up. Put the lime in the coconut and call me in the morning. Woo-oo-ooh, ooh-ooh-ooh, ooh-ooh-ooh. I said Doctor…Doctor…" Don't forget to stop by Jojotastic for that After Sun Lotion.
Like the outdoor glasses? Wood tray? Everything is available at World Market…shop the post today and save up to 50% Off on ALL outdoor furniture…remember those blue bistro chairs from the DesignOff that you wanted? Yup, on sale. Whoohoo!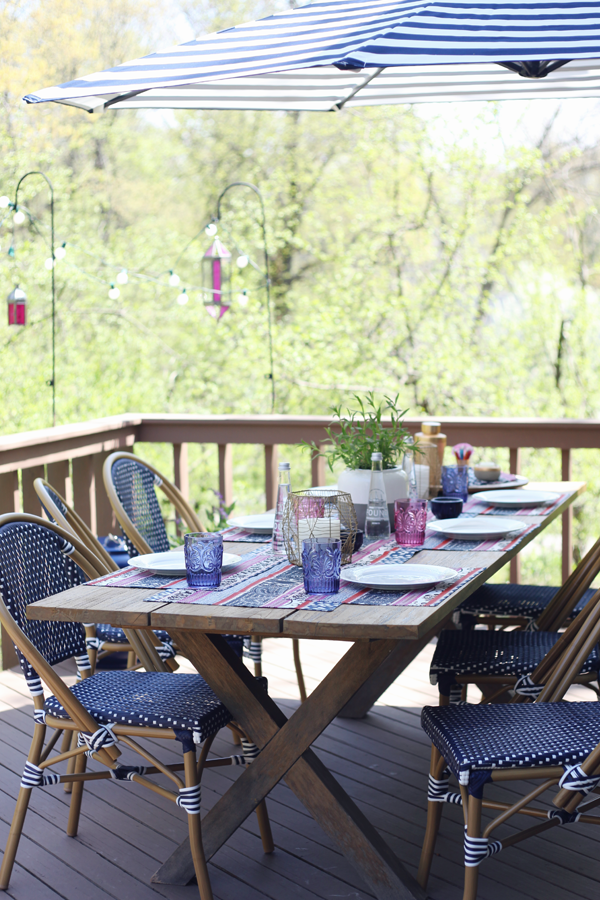 If it was acceptable, I'd swim around in a vat of this cocktail.
Click To Tweet
For this post I received products to review from World Market. All opinions are my own and always will be. Thanks for supporting the content that keeps House Of Hipsters going.
Like this cocktail recipe? Take a peek at my other favorites!
ORANGE BLOSSOM COCKTAIL RECIPE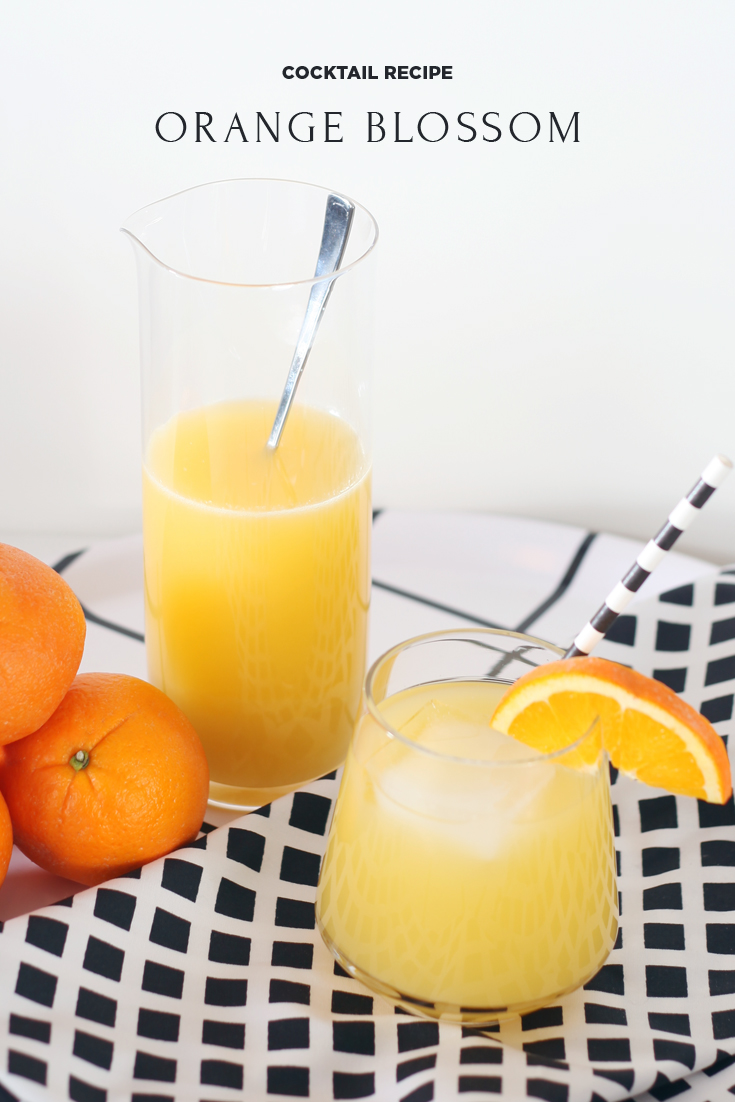 CHAMPAGNE SMASH COCKTAIL RECIPE