For the longest time The Boy has been telling me to clean up the storage room. At the point you can't even walk into the room without tripping over some vintage find. But, I've been dragging my feet because I love everything, I just don't have a place and space for it all. I also refuse to donate Dwell Studio pillows. We donate a lot, but I just can't do that. So, today I'm testing the waters to see who is interested. I'm considering hosting an Instagram Pop Up Shop, and you're invited.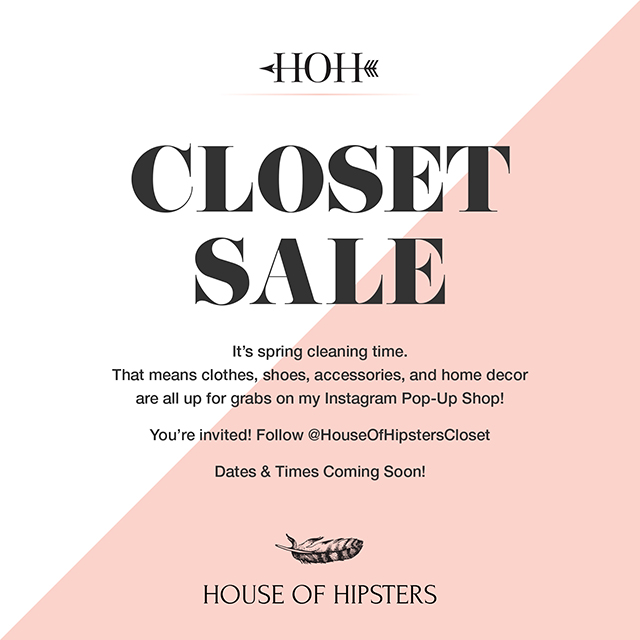 MORE AFTER THE JUMP…
I'm doing a lot of prep right now for the big sale: cleaning and sorting, taking pictures, writing descriptions. The biggest part of the sale is the Instagram account, and if there's enough interest shown from you guys. You can follow the shop here @HouseOfHipstersCloset and if you want, follow the blog here. I'm expecting the sales be and ongoing event, and I'll try to give everyone as much as a heads up as possible so everyone can attend each sale here and on Instagram and Facebook. I'll also try to give everyone a sneak peek as to what's up for grabs
I gotta tell ya, I have a bunch of amazing clothes, insane treasures and home decor items up for grabs. Loads of goodies for you to snap up at a great price. I'll have Dwell pillows, designer denim from companies like Hudson, Paige, Current Elliott. Accessories like a wallet from Tory Burch. More items from lululemon and Splendid. This Instagram Pop Up Shop sale is not to be missed.
I'm making it super simple to buy an item. First person to enter their email address in the comments gets the item. All the prices will include shipping. I'll send you a Paypal invoice via email, and you'll have 24 hours to pay. If payment is not received, the item will go to the next person in line. All sales will be final. I will ship the item out in 10 days or less. So whadda say? You in? Let's see how many of you are interested by following @HouseOfHipstersCloset