April showers brought May flowers and June is right around the corner. Do you know what that means? Time to hit the beach. Dude, you live in Chicago, not on a beach. Ah, so many forget we have Lake Michigan, and North Avenue Beach is a great place to cool down and chill out during the hot summer months. Today I'm sharing with you my 10 summer beach essentials. Everything you need to protect you skin, stay hydrated and look your best.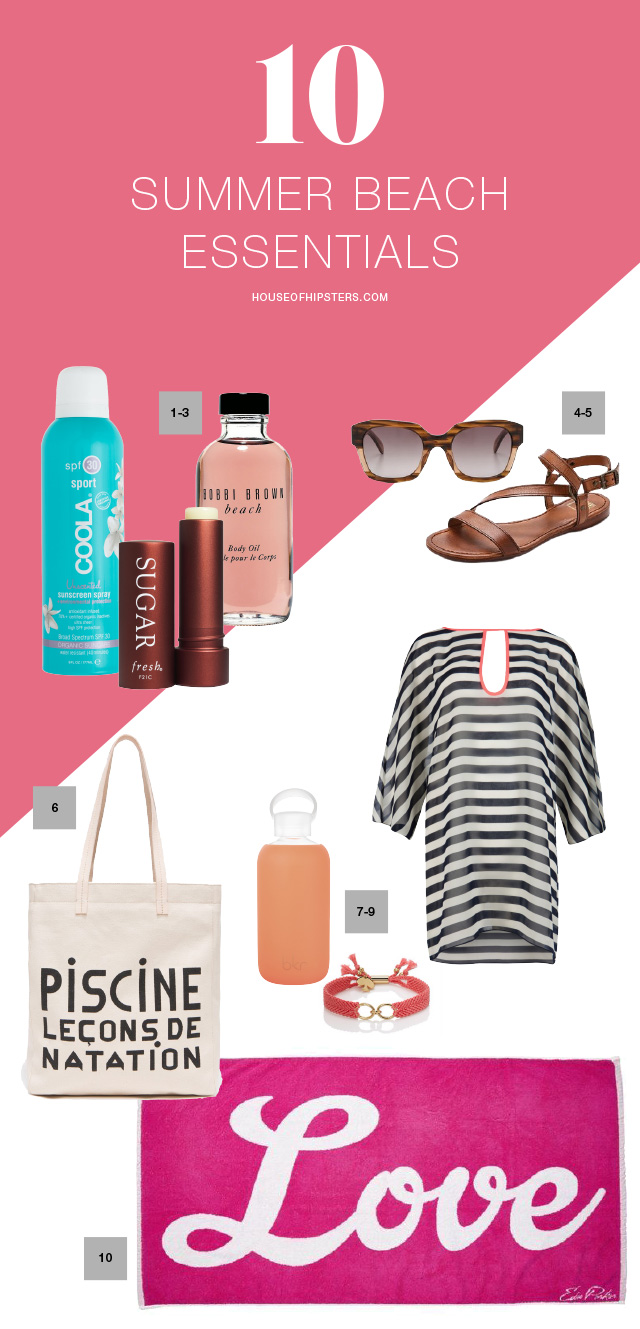 MORE AFTER THE JUMP…
Summer beach essentials are a must have unless you live with penguins…which yes they're cute, but too cold for me.
1. Coola Sunscreen is the bomb. It protects my skin from the sun's harmful rays and made from certified organic ingredients. It's strong enough to protect yet delicate enough to sooth and moisturize your skin minus all the ingredients you can't pronounce.
2. Fresh Sugar Lip Treatment SPF 15 will moisturize and protect you lips. It also contains antioxidant-rich vitamins that defends your skin against wrinkle-causing free radicals and harmful UV rays.
3. Bobbi Brown Beach Body Oil is seriously some of the best smelling body oil on the planet. It gives your skin this amazing sheen and contains four essential oils and vitamins E and C to nourish your skin. Are you guys seeing a theme here?
Moisturize! Moisturize! Moisturize! And please don't tan. No one wants skin cancer. It's just not worth it. Wow…starting out with more drama then Angela Chase pondering her love life with or without Jordan Catalano.
4. Sunnies…do I need to say anything else? Ummmm, yes. Yes, I do…I love these frames! A-MAZING!
5. These sandals are killing me. They have that grecian thing going on without all the straps that can pinch you.
6. I love a good beach tote, and this one is perfection. Nothing too flashy, but less is definitely more here. Add in the book How to Be Parisian Wherever You Are and your level of chic just hit a new high.
7. Grab yourself a fancy refillable water bottle. I love the splash of color and did you notice it perfectly matches the trim on the beach cover-up? Ya, I know.
8. Ok, so this bracelet is technically not a summer beach essential, but I have to say, it does add a fun extra little pop of color.
9. For me a beach cover-up is a necessity. This one is lightweight enough to keep you cool in the hot summer sun but won't cover your style.
10. I'm in LOVE with this beach towel. They had an orange one that said HAPPY, but it was sold out. Sad face. It's made from yarn on a loom rather then screen-printed, so it won't fade over time.
That's it you guys! My 10 summer beach essentials! Did I miss anything? Do you have anything in your tote bag that you can't live without? Please share!