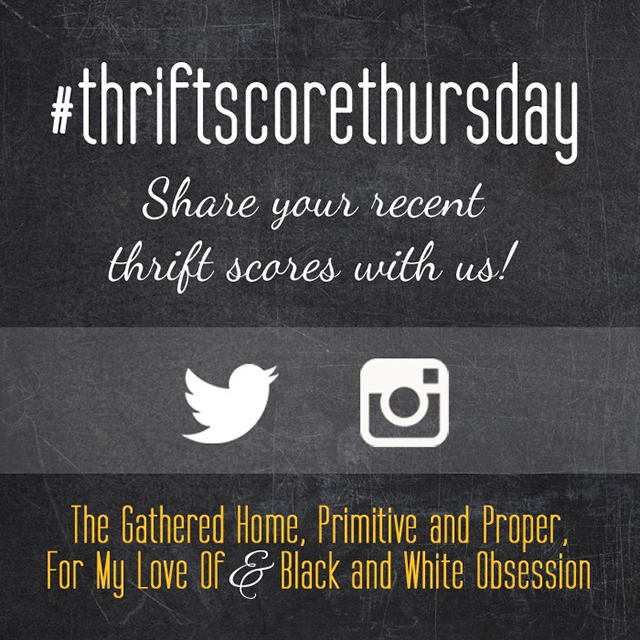 Hey you guys! Today I'm guest hosting slash Instagramming with the lovely ladies of Thrift Score Thursday. I seriously was so excited when I received an email from Brynne and Trisha that I leaped out of my chair. They sent me the email a couple months ago, but the guest posts were solidly filled until Halloween. And don't hate on me for this, but I'm really bah-humbug on Halloween. Cringe, I'm sorry! Boo on me, I know! I mean, yes, I give candy to little children when they ring my doorbell. (And THAT doesn't sound horrible and weird at all?!?! Oy!) I'm not The Grinch, but dressing up is SO not my thing. That is until this post apparently. I'll get to more of that later, but I really want to get to the features first! So here we go!
MORE AFTER THE JUMP
If you haven't participated in Thrift Score Thursday,  you need to get on this. Just share a picture on Instagram or Twitter of any thrifty find using #thriftscorethursday It's so much fun to see everyone's treasures, and it's hosted every week by Trisha from Black and White Obsession, Brynne from The Gathered Home, Cassie from Primitive and Proper and Corinne from For My Love Of. So what are we waiting for, let's get to what caught my eye this week.
This prayer rug snapped up by Ashley from Bigger Than The Three Of Us (for only $4!!!) really caught my eye. I love the green and black along with the pattern. It's unusual to my eye. It's a stand out piece. Go give her a like or a follow.  I'm curious as to what she's going to do with it. I wonder where it ended up?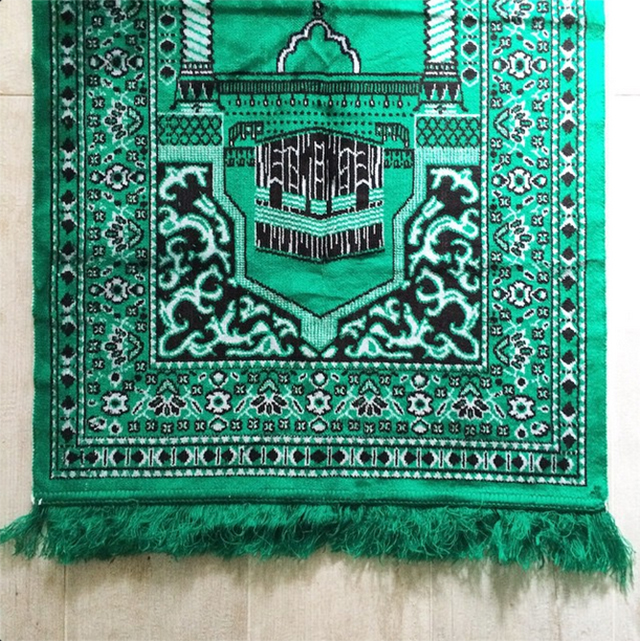 Swoon! This brass deer mount by Eleven Gables is spectacularly, heartstoppingly amazing. Brass is the way to my heart. Clutch the pearls. Go give her a like or a follow. This shot made my night!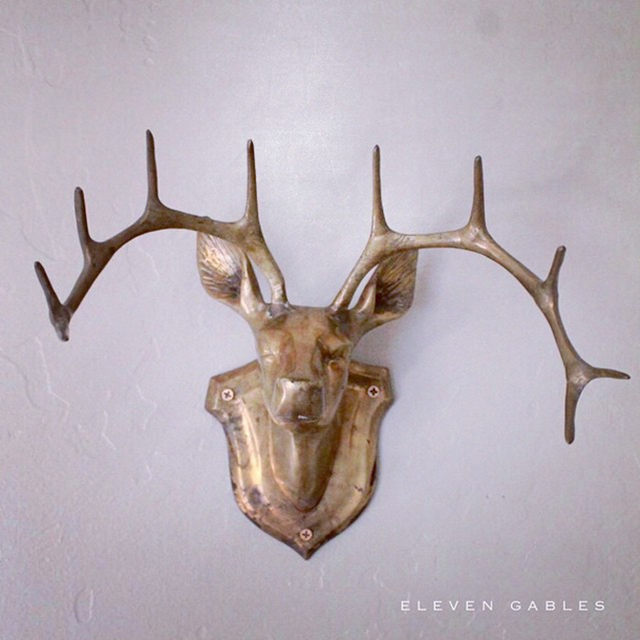 This score by Sarah M Dorsey Designs is great. She found the tray and decorative ball for $4!!! Seriously ladies, I really need to go shopping with you. Go give Sarah a like or a follow. I also really love the styling here. The metal on weave on marble gives a lot of depth to the shot. Lots of layers.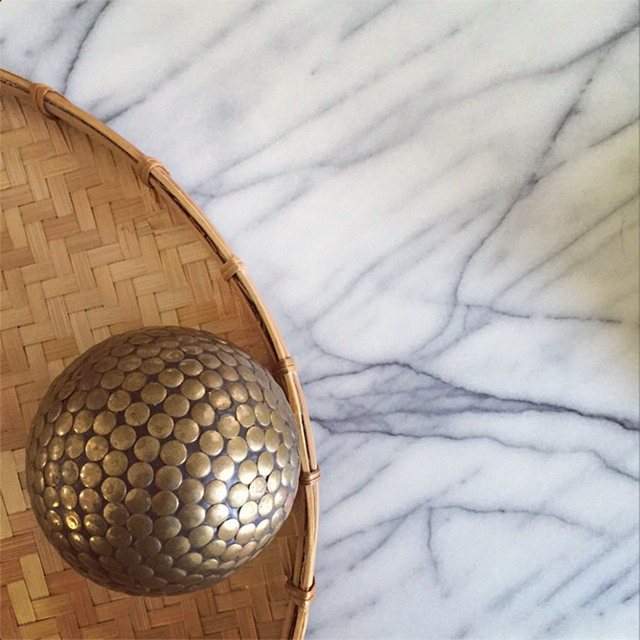 And then there's my finds, and this is where I get a bit nervous. I told the girls I was stepping outside of my comfort zone this week. Brynne reminded me I was up to host when she featured my campaign desk. OOOOHHH NOOOOOO! Panic set in. It's not that I forgot, but I was out of scores and this past weekend was jammed packed. No estates sale-ing for this gal. She also said this, "I'm pretty psyched to see what she (me) shares because check out this awesome campaign desk she scored! Bonus: impeccable styling!" Ya, no pressure there. Thanks Brynne. I've gone through a lot of my latest thrifting scores on Instagram lately because well, it's just so darn fun. This happens to be one of my favorite IG challenges out there. When I get excited about a score, I can't wait to get home a photograph it.
Anyhoo, all but two awesome recent scores had been photographed…what remained were two jackets. Yes, I could have gone back to the archives, but what's the fun in that? I kinda feel like that is cheating. Since I'm weird and style everything, I knew I'd have to work up the courage to be in front of that camera wearing said jackets. You see, I'm way more comfy behind that lens. So after dragging my feet all day long, a beer or two, a lot of hemming and hawing and a couple giggles from The Boy, here are my #thriftscorethursday finds.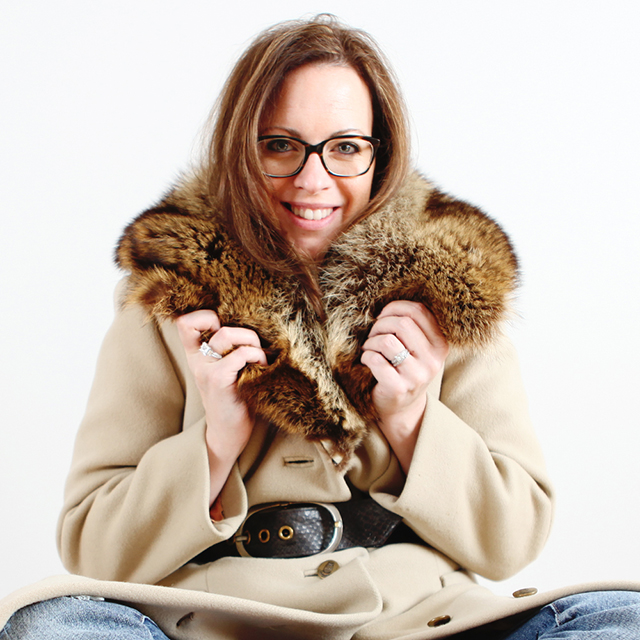 This coat is A-MAZING! I actually found it after striking out big time at a local estate sale in Wayne, IL a couple weeks ago. Nearby was one of my favorite stores, Outpost General Store. Technically, ok, it's not a thrift store, but come along with on me on this ride. (Yes, you might be able to buy artisan pickles and Jeni's ice cream here, and what I really went there for was a Green River soda.) The owner is a buyer for Jayson Home and Garden and has insane style. So I walked in and saw this jacket laying across a vintage sofa in the back room. Now that I'm writing this, I should really go back and check on that sofa! I had never seen vintage finds here, but I immediately tried on the coat hoping it didn't belong to another customer (cuz that would be awkward) and thinking it would be waaaaay too small on me. But it fit like a glove! Inside is an embroidered rose sewn into the lining that looks so sweet. Granted, it is covering a stain, but it still makes me smile. I think this is a great way to hide flaws in vintage clothing. The original leather belt was still intact although it doesn't move well in the loops hence it being a bit skewed. The fur is real (and no hating on me animal lovers, I'm supporting the antiquer, not the breeder). It's so warm and super soft. I had to have it. Yahtzee! The day was not a bust!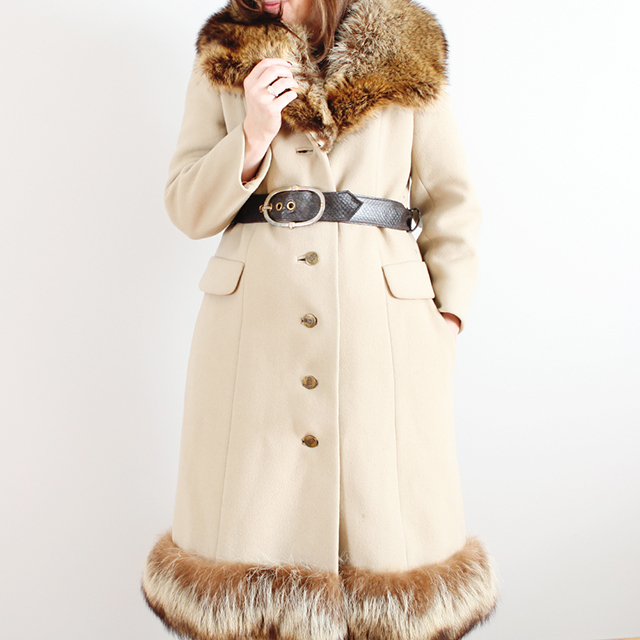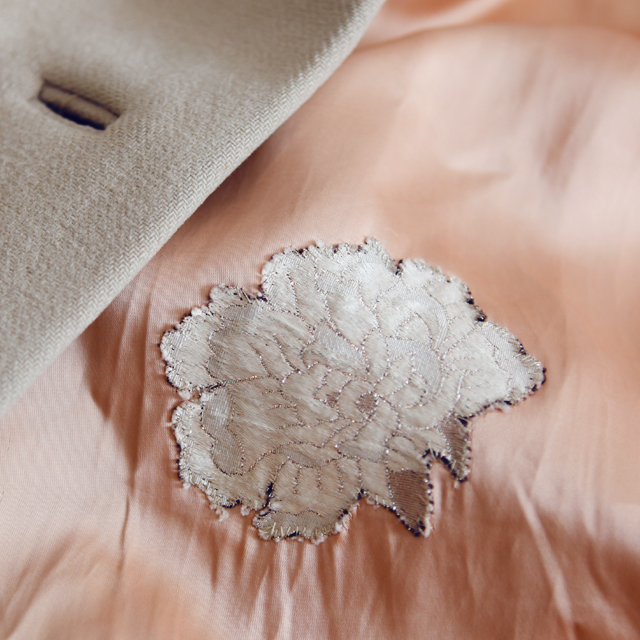 As I walked over to the counter to ask its price, I noticed this vintage men's suit coat. It had been professionally tailored to fit a women's figure. The nipping at the waist was perfect, and monogrammed buttons had been added to the cuffs. I grabbed it as well. I'm really digging the yellow flannel accent on the collar with the red piping. It reminds me of an old hunting jacket. You know the kind of hunting English dudes did with coon hounds and foxes? Ya, that kinda jacket. I feel like this deserves some amazing riding boots.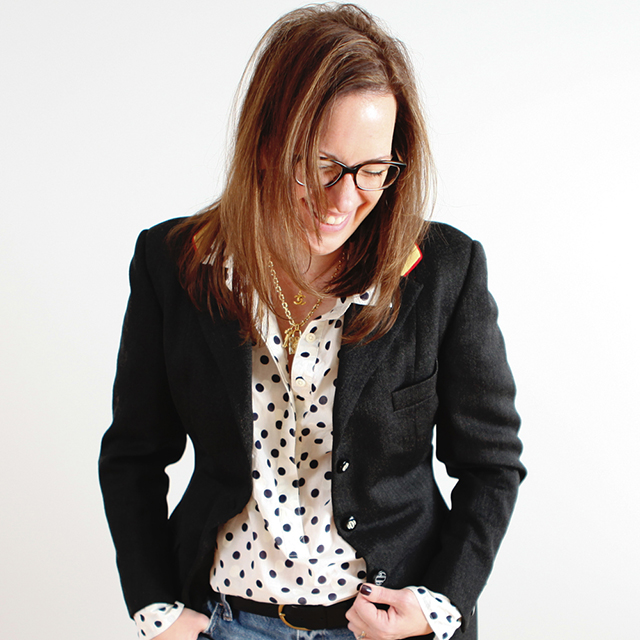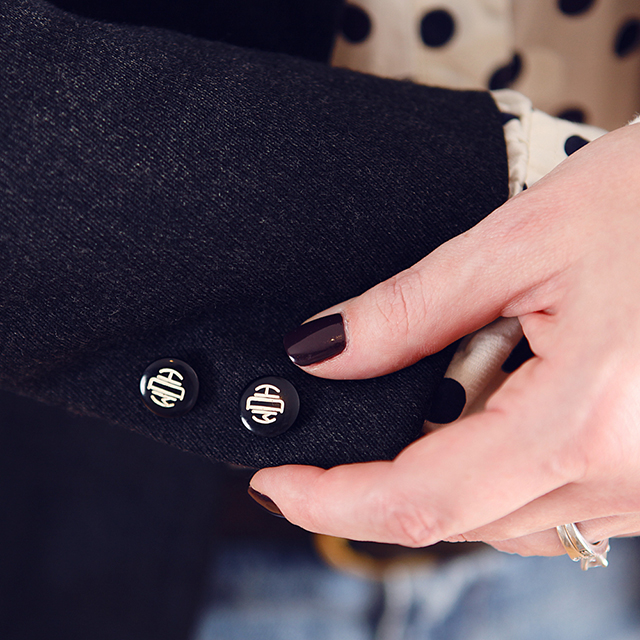 Be sure to stop by each of the host's blog to see if your treasure was featured!





So are you guys ready to share? I'll be participating next week as always and in a few weeks, I'll be hosting again! So bring it you guys! Get out there and start thrifting! I wanna see your best scores! Your most prized treasures. The one item that put a smile on your face and made your thrifting day!