Hey guys! Hope you are having an awesome week! So I have kind of a different post today. Last week I received a sweet email from my new blogger friends Foxtail + Moss asking me if I wanted to participate in a DIY Blog Tour. Ummm, really? YES PLEASE! They too are from Chicago, and I heart their work so much; how could I say no? (Seriously, these girls kick some serious DIY butt, and I'm completely honored they even consider me!) The girls sent me a few questions which I've answered below and then I'm handing you off to my favorite DIY blogger. That might just have been the hardest part of the interview! There are so many talented bloggers out there.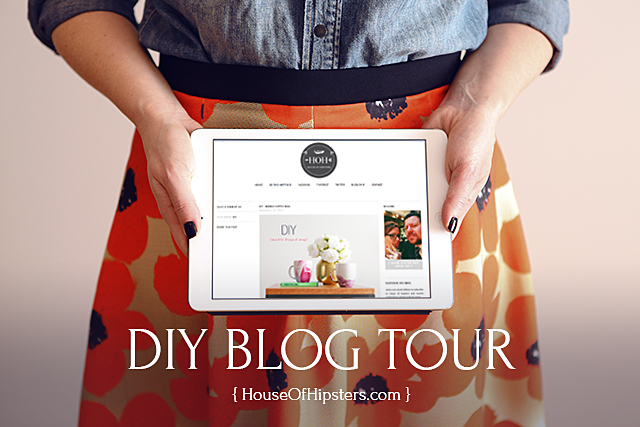 MORE AFTER THE JUMP
WHAT ARE YOU WORKING ON?
Hmmm, what am I not working on is probably an easier question to answer. Since I've kicked my blog into high gear over the last couple months, I've been trying to set up a nice work space in the basement along with a small studio area for my photography. I'm learning quickly that I need more room. Right now it's a total and complete mess that makes the boy shake his head in Type-A personality pain. Seriously you guys, it's a disaster zone! Besides that, I've really been focused on the social media aspect of House Of Hipsters. I've tried every way to get my name out there. Apparently it must be working, since that is how I met F+M! So little hooray cheer for me!
Being a mom and a wife and a blogger takes away from a lot of "me" time. So I've also tried to give myself breaks…some personal time. The boy really helps remind me to take that time and is sweet enough to help make it happen without making me feel guilty. I work out with my personal trainer Joe once a week and try to hit some sort of estate sale or flea market or go to hot yoga once a month. It's difficult to find that time, but it's important. Helps me keep my head clear and unstressed.
HOW DO YOUR DIYs DIFFER FROM OTHERS IN THE GENRE?
I envy anyone that can grab something vintage and make it new again. Or build some amazing lamp with their bare hands and a stick. It's like they grab fabric and a drill and some glue and say, "Tada! I present to you a unicorn!" I'm soooo not that person. Maybe I could be, if I had the time. Personally, I like to find projects that takes 5-10 mins, but the final product looks like it took days and is gorgeous. I cross my fingers that I have everything on hand and hopefully it looks good on the first try. (I'm completely lost in a Michael's.) A lot of my projects are never really set out to become DIY projects for the blog. They just kinda happen that way. I'm usually shopping for a particular item for my house and am like, "I could totally make that!" If it works, it ends up on the blog. The pipe shelf was probably my first (giant) leap into DIY. I was seeing them everywhere but couldn't find where to buy one. The boy did a lot of the heavy labor.
Also, I have this weird wish that I could give each of my readers a House Of Hipsters present. But not only would that be really expensive, it would be very impractical. I make a lot of printables to try and compensate for this wish. Each time I design them, I challenge myself to top what I did on the previous post. This last one was using old candles you had lying around, scraping off the old, poorly designed label and printing out a new label I created. My hope is that when the reader lights their candle or walks passed a printed frame I helped them create, they might think of the blog and smile. I hope it brings them a bit of happiness. Pretties up their home a bit.
WHY DO YOU WRITE/CREATE?
I started this blog for more personal reasons and a few work reasons as well. I wasn't really sure what the focus of House of Hipsters was about. In fact, I think it is still evolving. I do some copywriting at work, but not anywhere near what a seasoned writer would do. I felt this lacking skill was something I really needed to improve upon. I also love photography, but one can only photograph their kids so often before their Facebook feed is just crammed with nothing but black and whites of toddlers. Yes, they are cute, but please woman, stop is what I could hear my Facebook friends screaming to their phones.
So I needed and outlet for the random bursts of creativity. I knew I wanted to use my camera, I knew I wanted to write and I knew I also needed to get a better understanding of social media. We would talk about Facebook and Twitter a lot in creative briefs, but I was really naive when it came to all of its intricacies. Ten months ago, life got busy and I stopped posting for quite some time. That is until a couple friends saw my URL on Instagram and bugged me to start writing again. They were my first real readers and their encouragement has brought me to where I am today. I'll be forever indebted for their support!
WHAT'S YOUR CREATIVE PROCESS?
Does any creative really have a process? I know I should have a blogging calendar to keep myself on track and on schedule. I think the lack of organization is really evident on my blog and showcases how I literally fly by the seat of my pants. Sometimes I'm a DIY blogger, others I'm an interior design / styling blogger and other times I'm posting recipes and randomness. Maybe once I get a creative process down, my blog with have a clearer path. I know one thing that scares me to death every time I sit down with a new project is a blank screen. Nothingness. Just white space. It freaks the hell out of me. Whether it is in my real job as a Creative Director or a new blog post.
One thing I do know, I usually write my posts a few days, sometimes if I'm lucky a week ahead of 'schedule". I use that word lightly since my schedule consists of, "Hey girl, you're gonna try to churn out 3 a-mazing posts this week." I read and edit, edit and read over and over again. Add in some witty banter and edit some more. But I know I have a really good post when I can hardly wait to go live with it. Like my candles or the marbled mugs. I seriously couldn't wait to post those! The candles took me like a month to finish…mainly because the labels I designed took a lot of time. But once they were done and I mocked one up…oh man, I was jumping up and down like my 4 year old son.
WHO AM I NOMINATING?
Drum roll please! Hey Laura over at Avery Street Design! Your recent arrow DIY kinda blew my mind. Oh and her zipper clutch…love it! She's gonna knock your socks off. Plus she's a super sweetheart…and DON'T miss her Instagram feed. It's kinda sort outta this world beautiful!
Linking up with Liz Marie Blog    Flamingo Toes