I briefly mentioned in my last post, I've been working on a separate work area in the house dedicated to the blog. Mainly a separate desk space and small photography studio. Life gets busy though and that's how disaster zones happen. I start to focus too much on the new office space and not as much on the everyday space. Suddenly, there are cables lying everywhere…on the floor, wires here, wires there, tangled up in crazy. Where's my laptop? Under the sofa? Awesome! Ya, not so much. Can't find my phone charger…as a matter of fact, I can't seem to even find my phone. Have you seen my keys? Messy, messy, messy.
I needed some practical solutions for my everyday problems. Enter Bluelounge with their rad new line for Target. They had everything I needed for my home electronics organization at a great value. Not to mention, they were also easy on the eyes. It's hard to lose when you have pretty things to look at, am I right? Anyhoo, I loaded up the cart and couldn't wait to get back to the house. Wires be gone! Keys be found! Not only that, to get the word out, Bluelounge has partnered with House Of Hipsters to give away one of everything from the complete Target line! THAT'S $170.00 VALUE!
Kii might be one of my favorite items. I just upgraded my iPhone 4 to the iPhone 6. Sweet, right? Totally, but Apple changed their connectors when they launched the iPhone 5. I suddenly realized I only had one charger, and I came to that sudden realization at work while my one and only charger was an hour away, at home…sad face. I needed to buy another one…well, probably more like another four. One for my work office, one for my home office, one for upstairs and one for the kitchen. Or, I could buy Kii. It's portable and allows me to charge and sync without the need of a cable. Kii is a lightweight USB to Apple connector that fits on your keychain. How cool is that?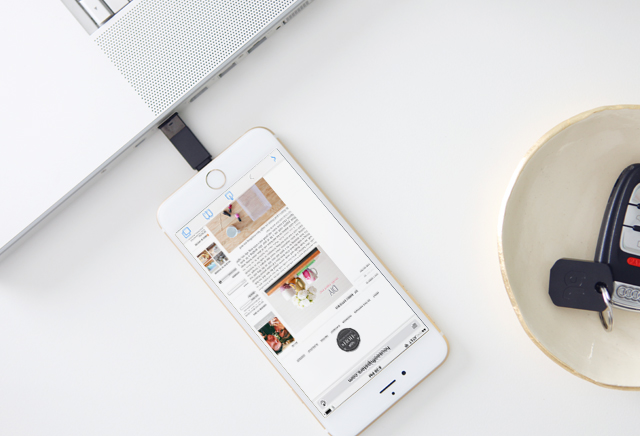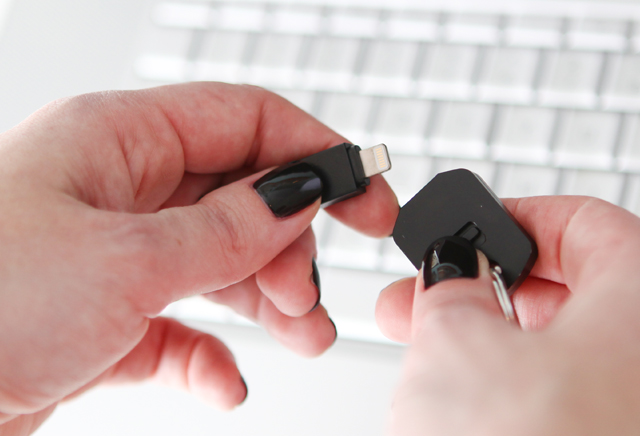 You can also get Rolio. It converts your Apple Lightening connector into a super-portable wall dock. You just wind up the excess cord and boom, plus it's only $9.95! It's nice to get beautiful items at a great price. Hey Bluelounge, you're kinda rockin' my world today.
My laptop tends to get pretty toasting, REALLY toasty actually. Does yours? When mine gets hot, it tends to slow down which is just plain irritating. So imagine my surprise when I found these little guys called Cool Feet.
Cool Feet suction cup to the bottom of your laptop, elevating it to increase the airflow. I also really like typing with them because it gives me a nice ergonomic angle…3 different angles in fact, but I seem to prefer all 4 feet. I've been using one of those USB cooling fans but it was sooooo noisy and bulky (not to mention expensive). Who knew such a simple design could solve such an annoying problem? Since Cool Feet are temporary, they easily detach and can be used on multiple devices, such as an iPad, or in my case, The Boy's laptop. I think I have to go back to Target for another set because mine keeps walking off. Bluelounge calls Cool Feet small, silent and handy; I call them little pillows of awesome.
Suddenly my new desk space was on a steady path towards Organizationville, and I liked it! I reached in my Target bag and grabbed the CableDrop and CableDrop Mini. The Boy is also a fan of these. And because of that, I was very thankful the CableDrop came in a 6-pack and the Mini in a 9-pack! There was more then enough to go around. The thing I'm most thrilled with is that my laptop cord no longer randomly comes unplugged and falls to the floor. Everything stays in place which is a lovely concept.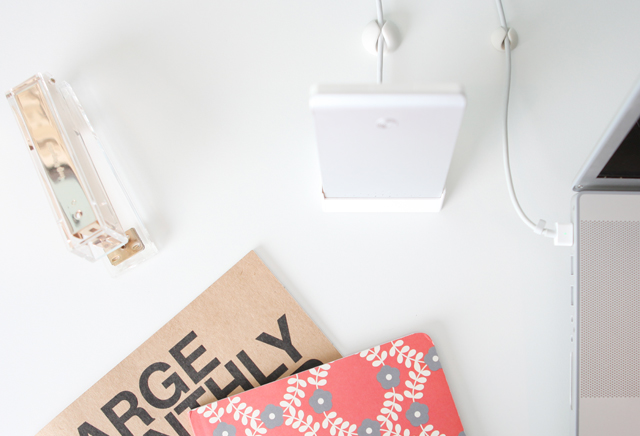 They also have CableClips which if you're a gal like me who has a ton of gadgets, helps immensely. I have cords for cameras, lighting system, computer, tablet, headphones, USB cable…heck, if you look long enough you're guaranteed to find a Zip drive. Did I just age myself? I digress. Now I opened drawers, and they are no longer a snarled mess of tangled wires. CableClips keep everything in check, and I've also been using one in my purse to keep my headphones handy! So much better than being wrapped around my sunglasses, a pen, lipgloss and a pack of gum.
So it's probably about time to reveal my new blogging desk space huh? Are you ready for it? TADA! What do you think? Boom! Mic drop! Pretty awesome huh? Well, minus the fact that I still have to spray paint those three frames black. What can I say, it's been windy here the last couple weeks.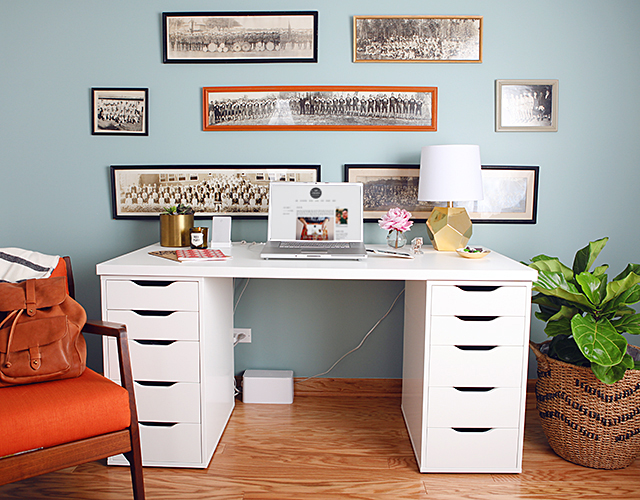 Oh, see that white box on the floor? It's the CableBox Mini. It comes with a 4-socket surge protector to plug in desktops items while keeping my cords out of sight! Yippee! It's like a little fairy just walked in here and made some magic happen, am I right? I'm thrilled with the transformation!
Before I let you guys enter the giveaway, I want to take you upstairs to the kitchen, really quick, I promise! I find a lot of my recipes from other bloggers, so I have the iPad in the kitchen quite a bit. Casa keeps your tablet or phone off the countertop protecting it from spills (which happens quite a bit here at House of Hipsters) and it also has this handy dandy little tray in the back.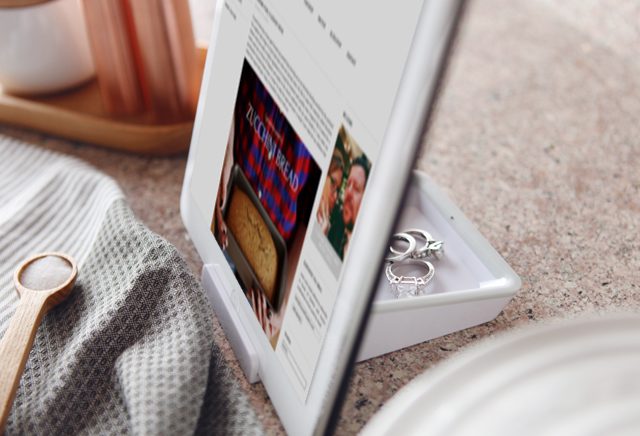 The Boy likes to put his extra change back there, so Little Maus and The Dude are constantly raiding it. I don't like to cook with my rings on, and it makes me feel a tad bit unsafe leaving them on the window sill over the sink. Too keep them out of cake batter, I keep them in Casa…a nice little nook.
So are you guys ready for this? Do you want to enter for a chance to win one of everything from the complete Target line? Seriously, OMG! It's a $170.00 value! SOOOO EXCITING! Are you ready to get your electronics squared away? Stop gibber jabbering! Let's do this already! Enter the Rafflecopter below. (You must be a US Resident to be eligible. Sending a huge apology to my friends across the pond!)
a Rafflecopter giveaway
I was not compensated for this post, but received free product in exchange for hosting this giveaway. As always, all opinions are 100% my own. Thank you for supporting our sponsors.    
Linking up with Coastal Charm    A Stroll Thru Life    Project Inspired Cupcakes and Crinoline    Lou Lou Girls    Live Randomly Simple    Cedarhill Farm House    Dwellings The Heart Of Your Home    New Mrs Adventure