House of Hipsters is a year old! Okay, don't freak out, but to celebrate, I decided to give one of my lucky readers my favorite item from the Erica Weiner Collection to say thank you for visiting this site. You've helped HOH grow to where it is today, and I would not be here without you. If you haven't heard of Erica, you need to check out her site. Erica self taught herself the craft of making jewelry. It began as a way to relieve stress after work, but before long, it turned into a full-fledged cult following! And I am one of those devout followers.
So, what's up for grabs? It's my all time favorite Heartbeats Necklace. It's a 3/4″ wide, gold heart charm with the R. Kelly quote, "AND AFTER THE PARTY IT'S THE HOTEL LOBBY". (Also, Lena Dunham seems to dig this one as well.) From far away it kinda says, hey look at me, I'm a pretty and I'm a sweet heart necklace…so innocent. But get a little closer and it says, and I likes ta shake it. Okay, now you can freak out.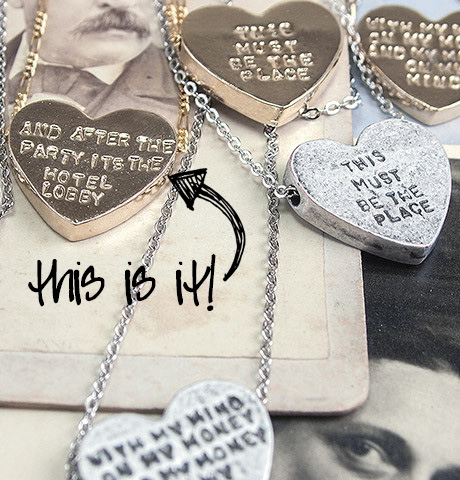 Alright, so how can you enter? Head on over Erica's site, browse a bit and comment below telling us your favorite item. I know, it's going to be a hard decision…it doesn't have to be this necklace. She has some really, really purdy wares for sale. That's all you have to do to be eligible. Easy peasy.
The contest will be closed on Friday, September 12, 2014. I'll announce the winner a couple days after, so check back to see if you are the lucky winner! It is your responsibility to check back to see if you are the winner, and I'll be asking you to PM me your address. Good luck!
Sorry, only open to US residents. No purchase or payment of any kind is necessary to enter this giveaway, nor will it increase your chances of winning. A limit of one entry is allowed per email address. If you use multiples, you will be ineligible. All entries for this giveaway through this site must be received on or before the Entry Deadline Date to be eligible to win. The winner will be generated thru Random.org. Winner will be announced within 30 days of the contest's closing date, It is THE SOLE responsibility of the winner to contact House of Hipsters as instructed to claim the prize. Winner must respond within 30 days of the announcement or forfeit the prize. Winner cannot substitute the prize for cash; however, House of Hipsters may substitute the prize for any other prize of equal or greater value in the event that the prize is not available for any reason outside the sponsor's reasonable control. Acceptance of prize constitutes permission to use winner's name and prize information for promotional purposes in any medium, except where prohibited by law, without further payment or other consideration.
ALL ENTRIES FOR THIS CONTEST HAVE BEEN CLOSED.