little maus is growing up, and fast. everyday she seems to learn something new…her vocabulary is expanding, she is walking down the stairs on her own, she is kicking a foot over the crib railing…wait, uh-oh, that mean ROOM MAKEOVER! excellent! no more nursery for this little lady, we are almost ready for a big girl bed, and that means out with the old and in with the new. finally i get to say goodbye to the crib (although secretly, that makes me a little sad).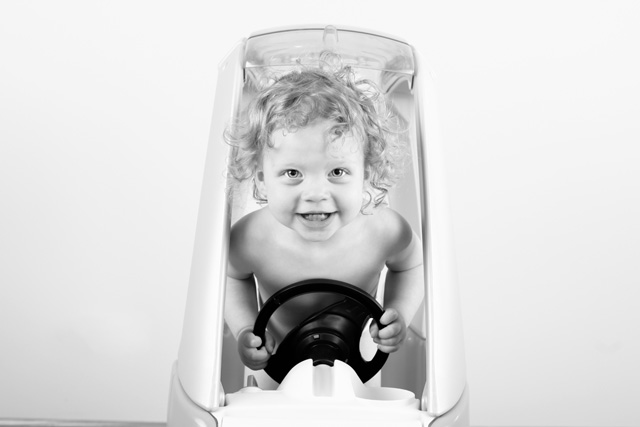 gawd, if she was only cute right? i mean, she is hard to even look at. LOL! seriously, i'm obsessed with her
if you've been watching my pinterest boards, i'm sure you've seen me pinning like mad crazy to this one. it's amazing…finding the perfect shade of pink can be quite challenging. there's so many shades…pastel, barely there, blush, rose, hot pink, neon. i also wanted to add in a secondary color and was inspired by the headboard. by incorporating teal into the mix, i avoided the pink punch to the face and added a cool tone. i mean, it needs to be girly but not diva princess…we are still looking for a smidge of sophistication. a well design savvy space fit for my little girl. i have to admit, this mood board has been so wildly fun to create…the freedom of color and pattern…i seriously can't wait until i get the green light from the boy to buy, purchase and procure!
so have to admit, i'm a bit heavy on the land of nod with this room design, but man-oh-man they have some cute things! i do have some vintage pieces picked out, but they will probably be gone tomorrow (one can never ever wait on vintage)…i'm trying so hard not to fall in love with the high boy i already purchased in my head…it's so beautiful. come on daddy! give me the green light already!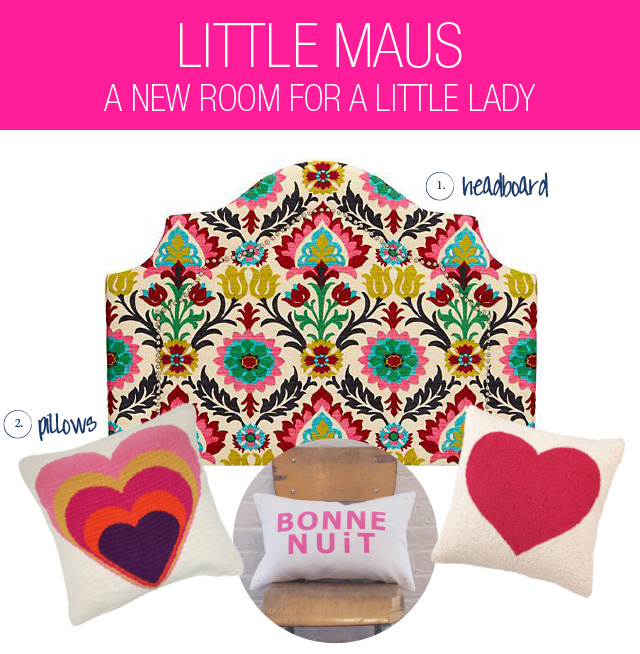 so yes, the headboard is SUPER busy, but it's fantastic! the multiple colors gave me a lot of options to pick to pick the secondary turquoise color and it is unique enough that i don't think she will get sick of it…at least i won't and that's the most important thing, am i right? this time around i'm going for the full sized bed. the dude's bed is a twin, and the bigger her gets, the harder it is to cuddle and read bedtime books. i totally have regrets on the twin purchase. the pillows are so much fun…the needlepoint multi colored heart is by jonathan adler and the other is from layla grayce. since i'm secretly a complete francophile, i fell in love instantly with this "bonne nuit" pillow.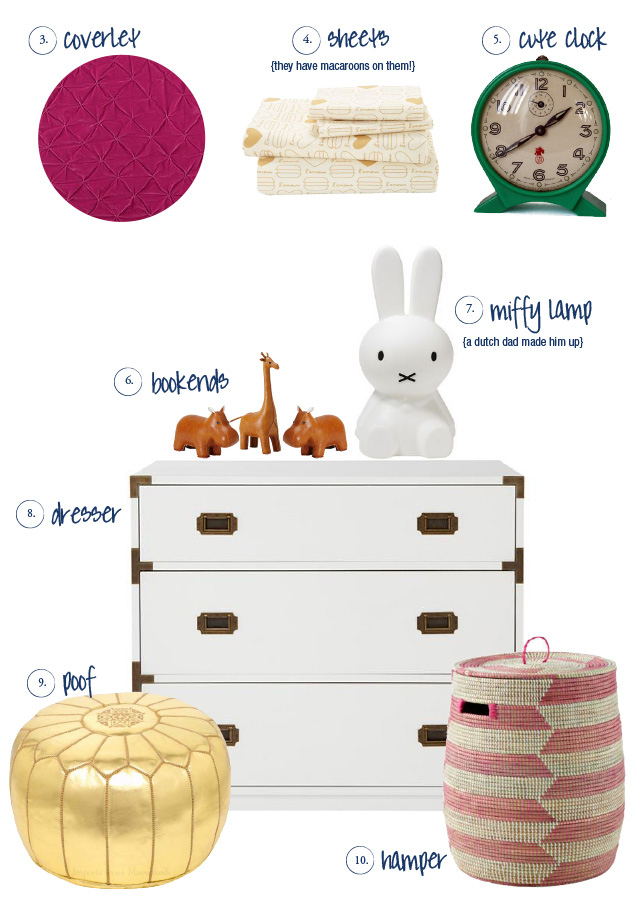 so how to pick the perfect coverlet that won't get into a mike tyson ear biting incident with that headboard? pick a solid. done and done. it has a velvety texture to keep it looking rich. the sheets are covered in macaroons with "l'amour" written on them in gold (ok, maybe a bit diva on the sheets…but throw me a bone…little girl's room!!! pink plastic castles for everyone!). and how bout that cute little clock from etsy? yes! i'll take one in every color for every room please.
what is with that giant bunny you ask? it's a miffy lamp and ever since i spied it, i've been over the moon. a dutch artist by the name of dick bruna would tell his one year old son stories about a little bunny he had once seen while on a holiday in a village off the coast of the north sea. miffy was born. now, just so you all know, miffy is humongous! the miffy lamp is as tall as my daughter so if you are thinking or procuring one for yourself, you've been forewarned. it's also on a dimmer so it's ideal for reading bedtime stories.
i've been eyeing these adorbable bookends by serena and lily for over a year and now i finally have a reason to buy them. they are faux leather with a ton of personality and weighted to keep even the heaviest books in place.
dresser: i love all things campaign style. if you don't believe me, check out the desk restyle here.
gold pouf: duh, it's a gold pouf! who doesn't need a gold pouf (or 2)?
hamper: baskets and super chic and simple…and this one will hold all her dirty clothes.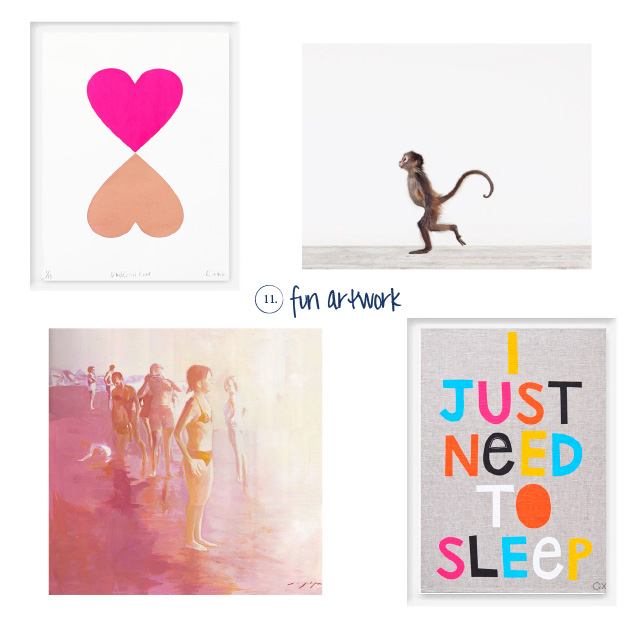 artwork for me can be a difficult decision, but i think i ran the gamut with these choices. i'm especially fond of the "i just need to sleep" tea towel..yes, it's a tea towel, but i think you can still hang it on the wall as art. and apparently since i pinned and now (1 week) it has been sold…but there are lots of lovely items on the castle and things site…still go check them out.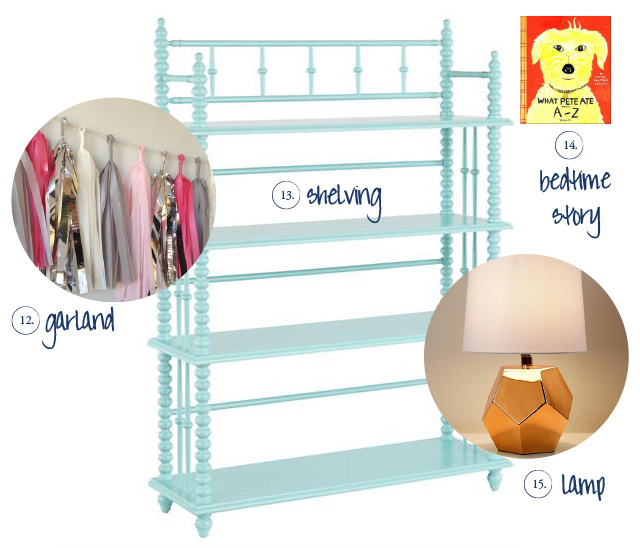 and in comes a bit more teal to tone down all that pink. this shelving is again from land of nod, and no they did not sponsor this post. i just really like their decor. it's so whimsy and fun, yet it has a vintage edge to it. one thing i really do not have in the dude's room is storage for his toys…that is kind of a fail on my end.
hey, guess where that lamp is from? yep, land of nod…i also have it in my office and i'm kinda in love with it. it's like the perfectly sized table lamp and the gold finish is not too shabby either.
1   ///   2   ///   3   ///   4   ///   5   ///   6   ///   7    ///   8   ///   9   ///   10   ///   11   ///   12   ///   13   ///   14   ///   15