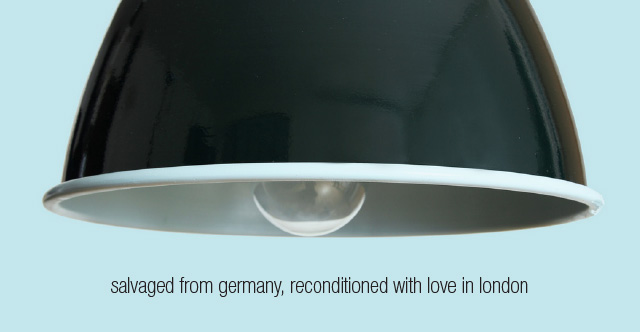 designer and maker katie warren recently launched a brand called auxilium salvage…a new eco-minded company whose focus is to bring the mundane, the disused or the unloved to life again, injecting objects with new purpose and place…product is rescued from its resting place and lovingly restored, one by one back in her workshop. everything about this company makes me excited and tingly all over.
her latest line, the candy collection, consists of rescued old and disused lamps from a cable factory in cologne germany (one of my favorite places to visit and also home to the boy's uncle), traveling 400 miles to london where katie's team has transformed them for a second life, hence her tagline, "salvaged from germany, reconditioned with love in london".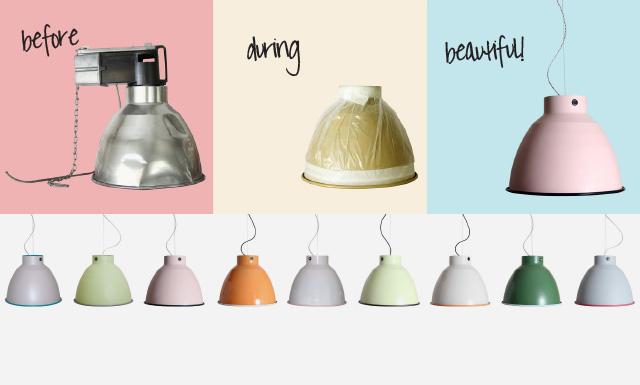 these originally banged up old factory lamps undergo a major transformation to a simple, industrial and classic design that would look awesome in any home, office or cafe…the color palette is bright and modern and gives a gentle nod to the 1950s…the decade the lamps were originally manufactured. katie and her team inject a new modern edge from their original aesthetic. if one of the 13 standard colors isn't quite perfect, you can customize it to your heart's content inside and out. i personally am a fan of the diamond blue outer and creek blue matte finish on the inside…but the grey outer and hot pink inside is divine as well! decisions, decisions! i have been looking for a new pendant light in my mudroom, this one is a strong contender…something bright and fun to liven up that room…and maybe add in this wallpaper to the mix…a bit of nature and a nice bright pop of delicious candy fun!
every lamp is masked and hand painted making each one unique and special. i love this reuse and recycle idea, but what i'm loving more is wondering what conversations these lamps heard over their many years and what will they be privy to next…in my house it would probably be me telling my kids put their shoes on and the buzz of a washer…but maybe in your house it would be a little more exciting! so what are you waiting for? go order one already!