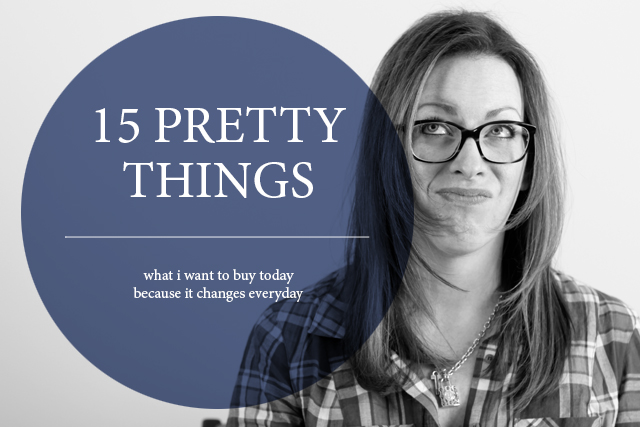 i'm addicted to shopping, i can't help myself. just when i think i couldn't possibly want or need another lamp, shirt, necklace, or chair, boom…i see it, and i need it more than life itself. a bit dramatic, sure, but there's no judging here at house of hipsters
lately i've been trying to control my urges, so i've been making lists of links or pictures of pretty little things that call my name…the boy would be so proud of me. today i share one with you and will try to make this a weekly thing…although it may make me shop more…again, no judging
i hope you enjoy this happy little list of come hither…links are at the bottom.
enjoy!
1 – a pendent lamp for the mud room…love the gold inside
2 – a secret personal love of all things feathers
3 – normally I'm all black, navy, or gray but these colors…oh man, i can't get enough of this pillow!
4 – a sweet little tray to keep all of your precious jewels and trinkets
5 –  rebecca minkoff wants us all to hop on a plane to mexico…seriously, this whole outfit! get in my closet already!
6 – this cashmere blanket would be great for cuddling with the little lady
7 – super serious now, no judging…i have a secret love for most things kardashian…not something i'm particularly proud of but it is a guilty pleasure…i love kim's choice of a nude lip and this tom ford lipstick is just the ticket! buy it here…now
8 – imogene + willie have a great vintage look…can't go wrong slinging this little guy over a shoulder. just add magazines, sunscreen, and headphones…instantly beach ready
9 – love the color, love the gold…seriously, enough said. classic ray bans style with a twist
10 – gypsy water is such an amazing scent…sometimes i go to barney's just to smell it…yes, i am that person
11 – thinking this eames chair would go oh so well with the campaign desk on the catwalk i've been trying to style…more to come on this project
12 – this table! gaw! it's brass, it's white, it's elegant and beautiful…put once, twice, three times a lady together and you have perfection in the form of coffee table
13 – i first smelled this hand soap at au cheval…they have it in their bathrooms…i couldn't stop smelling my hands all day long. this has been on my list for almost a year
14 – this shirt would be perfect for this year's lollapalooza festival but i'm a bit unsure about the bra situation…note to self, look at the u-plunge bra
15 – and last but not least, my holy grail…the lamp of all lamps…and i want two!!!!