To shake things up and expand House Of Hipsters' wings, my girl Erica Reitman (you may know her as VintageDesignMe on Snapchat, and if you don't, go follow her now because she will make you laugh out loud…she's also my #followfriday on Instagram today) is going to be a contributor! When I asked her, I totes expected an, "Umm, no, I don't think so sweetie." I mean, she writes for Elle Decor, HGTV, and Domino. So imagine my surprise when she said, "Heck yeah! Sounds like fun!" Can you say mouth on floor? Holla!!! She's funny, sassy, and likes to swear…you've been warned…oh, and she claims she can kick your house's ass. BTDubs, she can…she's also a small space design expert. AND I love her dearly.
Truth time: I never really set out to become a small space expert. But I lived in NYC for 12 years and I was def *not* a bazillionaire, so that translated into tiny apartments with all sorts of design and space challenges. I woke up one day, and realized BOOM: I'm officially a small space design ninja.
After loads of trial and error while figuring out my small spaces, I decided I wanted to make it my mission to help others on the #smallspacesquad with me figure out easy ways to kick their tiny house's ass.
Today I'd love to share with you 5 pieces of small space design advice that you should totally and completely ignore. I mean, you should take this advice, stomp on it, set it on fire, and then throw the ashes around in your tiny little garden. I want you to break the rules…and I mean break em' hard.
1. DON'T USE DARK COLORS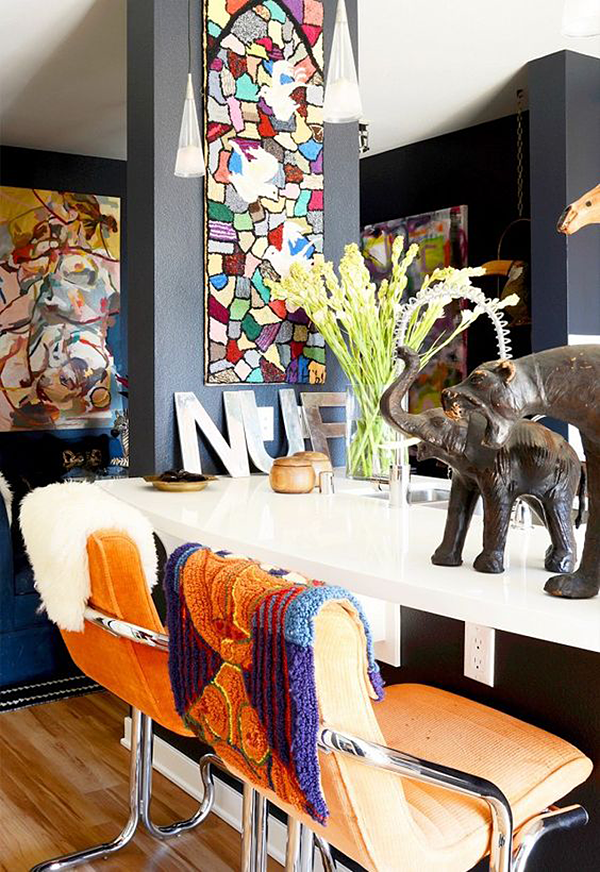 Photo By Nicole Cohen for Domaine (Erica Reitman's Home)
MORE AFTER THE JUMP…